Reviews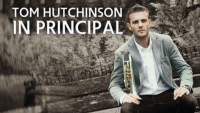 Published on December 1st, 2016
CD REVIEW: Tom Hutchinson – In Principal
Tom Hutchinson, Cory's Principal Cornet, released his first solo album last month and even before one complete listen you are left wondering 'How is this his first solo CD?!'  His CD 'In Principal' is a fantastic disk on which he's chosen to feature many new works and feature young composers and their new works.
The disk starts with a fantastic new piece from the pen of Christopher Bond, Cory's associate composer.  Fantastic impact from the band and Tom, 'Showcase' not only gives Tom (and the band!) the opportunity to present his outstanding technique and range, but also one of the real strengths of Tom's playing which you cannot help but realise, his ability to change style.  'Showcase' is very light in style with big band influences, a style which many players and bands do not play well, but Cory and Tom capture it from the very start.
World Premieres all across the disk, the 2nd piece is the 1st 'major' work on the disk, from the pen of Cory's Conductor, Philip Harper.  His Cornet Concerto was written during his student years and by his own admission it remained unplayed for so long because it was so fiendishly difficult for the players accompanying as well as the soloist.  Tom is flawless through the incredible technical passages across the whole tessitura and shows his musicality and sound in the 2nd movement, Andantino.  The 3rd movement, Presto Volante, is the most technically difficult piece I've ever heard played on a cornet and Tom sounds effortless here; and listening to the accompaniments you can hear why it has remained unplayed for so long, but the Cory Band do not miss a beat with phenomenal playing from them.
'Alaw' is a new commission from the pen of Tom Davoren.  A great contrast to the fireworks that have gone before it on the CD, it is a beautiful, simple slow melody which Tom which is played superbly.  This is one of the more accessible works on the CD for players who aren't All-World Cornet players to perform, I can see this piece being added to the list of solos that many cornet players are playing all over the country and further afield.
Lucy Pankhurst's 'Once in Never' is another great new work.  There is a melodic opening which is given a stunning rendition from the band and soloist before changing gear into a march-like final section which is played with such clarity.  The quirky nature of Lucy's music is definitely heard here but as she often does, her music is modern and individual whilst still light enough for even the most traditional bandsman to enjoy.
Cavatina for Cornet by Philip Sparke is one of the few pieces not written especially for this CD.  Whilst it essentially has a slow tempo, the initial theme is given some decoration in its second airing and Tom and the whole band make it all sound so easy, which it isn't.  This is a more 'traditional' cornet solo than other tracks on this cd and provides a nice contrast to some of the more modern styles which are tackled.
The 2nd major work comes in the form of Dan Price's 'A Puddle-Duck Suite' all in a more modern style than the more traditionally structured and serious concerto from Philip Harper earlier.  The first movement 'The Moody Mallard' is a rhumba which Tom captures the style of excellently.  Tom is all over the range of the cornet and performs all of the technically demanding passages with the ease that is required in this style.  'The Sultry Swan' as is noted in the excellent programme notes, has a wonderful 'Sunday Afternoon' feeling to it, very relaxed with lots of time.  'The Dirty Duck' is the final piece in the suite (although the first to be written, in around 2011) which is an up-tempo big band style track.  The harmon mutes for the 'quacking' were a favourite of mine!  Excellently played and accompanied by Tom and the band, it would make a nice addition to a budding cornet soloist's repertoire, if they like a challenge!
Christopher Bond's second offering on the CDis a lovely slow piece 'Song of the Night Sky' which is so simple and when played as well as it is here, is so effective.  The beautiful melody that becomes a little more agitated in the middle section before calming back down for the close.
Closing the CD is a new arrangement of the Finale from Rachmaninov's Piano Concerto No. 3 which Cory performed at Brass in Concert in 2013.  This time arranged as a cornet solo, the technical playing here is out of this world and I'm not sure there is a cornet player or a band anywhere which can give a better perform than this, and it really does require a top class soloist and band.  Changing from flowing tunes to incredible virtuosity, this track is a suitably flamboyant end to this fantastic CD.
With this release, Tom Hutchinson firmly puts himself in the conversation of 'who is the best cornet player in banding?'  His technique, range, style and that he does all of that with a brilliant sound are all on display throughout the whole disk.  For any cornet player, this CD is a must.  This will not be Tom's only solo CD, and I can't wait to hear the next one.