News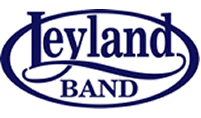 Published on July 17th, 2017
McLeod Wins Second Patrons Award
James McLeod is voted Patrons' Player of the Year at Leyland Band for the second consecutive year.
At a recent concert in Chorley Town Hall, the Leyland patrons were treated to a masterclass of solos from various principal players. Following a rendition of Philip Sparke's 'Pantomime', audience members were impressed by the technical virtuosity of James McLeod leading to the presentation of the annual award.
A musician in high demand, James has been busy as both a tutor and soloist in recent months. A respected tutor at the Red Admiral Music Academy, James helped to coach young players towards winning the Action Medical Research Junior Brass Band Entertainment Festival back in February, whilst also recently leading a workshop with Lancashire Youth Brass Band. May saw James travel to Denmark to perform as part of the Aalborg Music Festival, and he will also be travelling to Ireland later this month to tutor at the County Fermanagh Summer Brass School, as well as featuring as a soloist in Leyland Band's performance at the Innsbruck Promenade Concert in Austria.
Leyland Band Chairman, Chris Doran, told A4B: 'It is fantastic to have a player of James' quality around the stands, and it is always a brilliant occasion when we are able to perform solely for the patrons who provide so much support for the band.'