News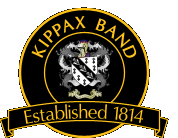 Published on December 30th, 2016
Knapton To Lead Kippax
Kippax Band are pleased to announce that they have engaged the services of Musical Director Ian Knapton to lead the band through a very busy festive schedule and then on to the Yorkshire Area contest in 2017.
Ian is already well known to the band, having helped out on Solo Trombone at the Mineworker's Championships a couple of years ago. Now as MD, he is straight into the thick of it with a hectic December schedule, which involves a recording for BBC radio, to be broadcast on Christmas Day.
Commenting on his appointment, Ian told A4B, "Once I got the call and came down to the first rehearsal, I knew Kippax Band had great potential around the stand. Along with the hard work each player consistently showed and the warm reception I got, I had no hesitation in accepting the role. I look forward to leading the band over the Christmas period and hopefully to a successful Area Championships in March, where we look to gain promotion back to the 1st section."
Commenting on Ian's appointment, Band Chairman, Colin Moss, told A4B, "Kippax Band were delighted when Ian accepted the invitation to come and rehearse with us. From the moment he arrived, he impressed the band with his enthusiasm, attention to detail and strong determination to move the band forward. His first concert in the band club proved a hit with the audience. We have therefore moved quickly to sign him up to lead the band to the Yorkshire Area contest in March next year, where under Ian's direction and our best efforts, we believe the band has great potential."
The band are also pleased to announce the signing of Rebecca Burgess-Dawson on Eb Tuba. Rebecca made her contest debut with the band at the recent Brass Factor contest.