Contests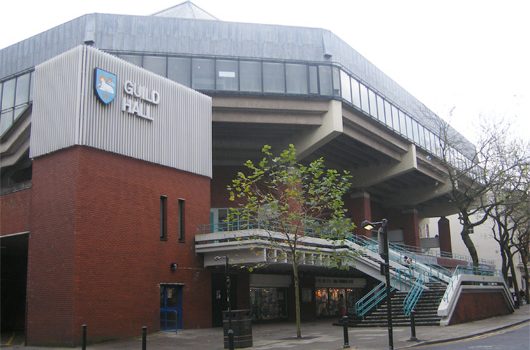 Published on December 30th, 2016
Brass At The Guild Closing Date
The organisers of the 2017 Brass at the Guild & 2017 British Open Youth Championship events wish to remind bands that the closing date for both competitions is Monday 2nd January.
Whilst entries are healthy for the popular contests that will take place at Preston Guild Hall & The  Charter Theatre on Sunday 29th January and are generously supported by R. Banks & Son (Funerals Ltd) through proprietor Brian Halliwell, bands still have time to get their entries in and are encouraged to do so at the earliest opportunity, ahead of the Christmas holidays.
Organised by Lancashire Contests and with additional support from the British Open Championship, the competing bands will be given the choice of which set-work they wish to perform, with the opportunity to showcase either those chosen for the 2017 Butlins Mineworkers Championship or the 2017 Regional Championships.
The highest placed band in the Championship Section, not already invited to compete at the British Open Spring Festival, will gain an automatic invitation to compete in the Senior Trophy at Blackpool's Winter Gardens in May. The test-piece for that event is Gilbert Vinter's 'Salute to Youth'.
Brass at the Guild is now seen as a major stepping stone to helping bands in their preparation for the Areas, although they can reprise their Butlins test piece if they wish.
Bands can perform either the set test-pieces from the 2017 Butlins Mineworkers Championship, or the own-choice selection they performed at the event (Championship and Fourth Section) or the forthcoming set-work for the Regional Championships.
Competitors must inform the contest organisers of their choice in advance of the closing date and a score for the adjudicator must be provided on the Contest Day.
The generous prize fund will see each successful podium finisher take home awards of £400, £200 and £150 respectively if they impress the adjudication team of Ian Brownbill, Michael Fowles, David Hirst and Lynda Nicholson.
Lancashire Contests also wish to remind bands that the British Open Youth Championship will take place in the Charter Theatre on the day. The format is a 20 minute own-choice entertainment programme with open adjudication.
We are once again delighted that the prestigious British Open title is on offer through the kind permission of Karyn and Martin Mortimer, to whom Lancashire Contests are very grateful.
Test Pieces: 
Championship Section:
Butlins own-choice work or Pageantry (Herbert Howells)
First Section:
Fantasy for Brass Band (Malcolm Arnold) or Land of the Long White Cloud (Philip Sparke)
Second Section:
Inclusion (Paul Sharman) or Rhapsody in Brass (Dean Goffin)
Third Section:
The Rose (Philip Wilby) or Darkwood (Daniel Price)
Fourth Section:
Butlins own-choice work or St Andrews Variations (Alan Fernie)
British Open Youth at the Guild:
A 20-minute own choice programme
Schedules and entry forms can be down loaded from: www.lancashirecontests.com
Further details:
Further details and enquires should be addressed to:
Frank Hodges
39, Broxton Avenue
Orrell
Wigan
WN5 8NP
Tel: 01942 212418
Email: [email protected]
Further information on Lancashire Contests can be found at the following link: www.lancashirecontests.com