News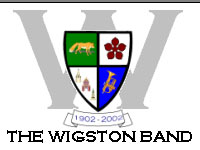 Published on December 30th, 2016
Its A Small World At Wigston Band
Following the retirement of the band's long serving Musical Director, Mr Garry Sleath, The Wigston Band would now like to warmly welcome and introduce Garry's successor, our new Musical Director, Mr Christopher Small.
Chris has been a friend of The Wigston Band for many years, often being persuaded to fill in on euphonium by previous MD, Garry Sleath. As soon as the opportunity came up to join such a friendly and enthusiastic band, Chris certainly jumped at the chance!
Chris has had lots of playing experience with lots of Enderby Bands, working his way up from Enderby Youth Band through to Enderby Seniors where he took up positions as principal euphonium and assistant MD. As well as this Chris has enjoyed playing successes with Carlton Main Frickley Band when they won the Grand Shield earlier on this year.
A spokesperson for the band told A4B: 'Chris's debut Wigston Band concert is in December. We are holding a free concert on Thursday 15th December, 7:45pm at St Thomas Church, South Wigston. As a registered charity The Wigston Band relies very much on events such as these to allow them to continue their good work within the community such as teaching youngsters in the community how to play music and giving experiences to those who wouldn't normally have the opportunity. This concert always proves to get people into the festive mood, with a range of music to suite every taste and a raffle too! Plus, there will be lots of mince pies to enjoy.'