News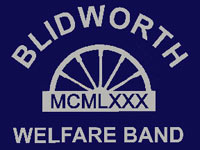 Published on December 30th, 2016
New Soprano Player At Blidworth
The Blidworth Welfare Band are pleased to announce a new signing ahead of their promotion back into the Championship section in 2017.
John Randle started playing at the age of 7 with Bulkington Silver and was moved on to Soprano at the tender age of 9. He has joined the Blidworth Band from Kibworth and has previously also been at Enderby, as well as other bands.
He replaces Trevor Milner on Soprano and the band would like to thank Trevor and his wife Jane, who was on 2nd cornet, for their time with the band after they decided to step down as all the players at Blidworth wish them all the best for the future.