News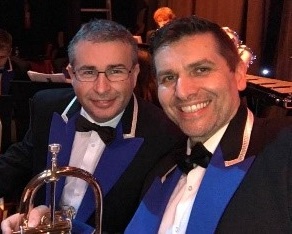 Published on December 31st, 2016
Besses Boys Reunite Wilkinson Brothers
Think of Christmas and images come to mind of mince pies, carolling, family reunions and community spirit. Besses Boys Band delivered all four at their annual Christmas Concert at the Longfield Suite, Prestwich, last weekend.
Mark Wilkinson, Principal Cornet player with Foden's Brass Band and widely regarded as one of the leading cornet players of his generation, joined his brother Dave, who has recently returned to Besses Boys Band having performed around the world with his ABBA tribute band, 'ABBA Again'.
Welcoming Mark back for this one-off performance, MD James Holt commented that it was the first time the brothers had performed side-by-side on stage since the late 1980s.
Asked how he felt about performing with his brother, Mark told A4B  "To play next to David after all these years was really enjoyable and I'm pleased that he has made a return back to banding. The last time we played together was when we were both members of Besses and it was great to return back to the band which gave us so much enjoyment and musical training all those years ago."
Dave added, "Performing in a brass band again is something that I never thought would happen, let alone alongside my brother. Getting to sit next to him was amazing. I am very proud of the accomplishments Mark has made in the brass band movement and the concert brought back a flood of fond memories."
The Band were also joined by members of Bury-based Helen's Angels Performing Arts Academy, directed by Dave's wife, Helen Wilkinson. She said "Some of the children have only performed in front of family and friends until now, so to be performing alongside the Band to an audience of over 250 people, including the Mayor of Bury, was a fabulous opportunity".
Besses Boys Youth Band, conducted by Tom Ridgley, completed the line-up for an afternoon of festive favourites. The programme showcased the wealth of talent from individual soloists interspersed with a number of opportunities for the audience to participate. From an interactive performance of 'The Twelve Days of Christmas', traditional community carol singing, and Bavarian shunkelling, there really was something for everyone, including the aforementioned mince pies.
Chairman Neil Matthews told A4B, "Of the many concerts we perform throughout the year, this is by far the Band's favourite. It's fantastic playing to a packed hall and to enjoy some real festive cheer with the wider community."