News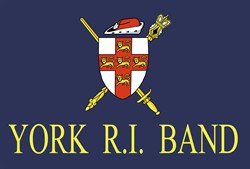 Published on December 31st, 2016
David Lancaster Takes York Railway Helm
York Railway Institute Band is pleased to announce the appointment of David Lancaster as Musical Director.
Originally from Wigan, Dr David Lancaster began his musical career on cornet with Pemberton Old Band. He won the Alexander Owen Memorial Scholarship which led to trumpet lessons with Michael Antrobus. David studied music at York and Cambridge universities where his attention shifted to composition, and he subsequently worked as composer and freelance trumpeter in the UK and around Europe.
David's music is regularly performed in concerts and festivals by some of the leading performers of new music all around the world; he has written for theatre, television and contemporary dance. David has won many awards for his work, including the Michael Tippett Prize and the LCM Centenary Award.
David has conducted brass bands at all levels and has adjudicated local contests, regional championships and National Finals. David Lancaster lives in York and works as Director of Music at York St John University, teaching composition and managing the university's music programmes.
Speaking about the appointment, David told A4B,  "I was delighted to be invited to become Musical Director of such a prestigious band. There is huge potential here and I can't wait to get started in the New Year. The challenge of consolidating the band's position in the Championship Section is very exciting and I am also looking forward to developing an innovative and attractive concert programme."
Band Chairman Clive Marshall welcomed the appointment telling A4B, "David is an excellent musician with an impressive pedigree as composer, player and conductor. York R I is very excited at the prospect of working with David and benefiting from his experience and inspiration in making wonderful music together"