News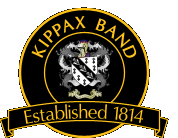 Published on January 30th, 2017
First Test Piece Event For Kippax
The Kippax Band are pleased to announce they will be holding their first ever 'Test-Piece run-out' afternoon, on Sunday 19th February, at their very own Kippax Band Social Club, 17 Mount Pleasant, Kippax Leeds LS25 7AT.
David Lancaster will be acting as the adjudicator for the afternoon and will help and offer feedback to the bands ahead of the Regional Championships. The bands participating in the event will be:
Knottingley Brass Band (1st Section)
Kippax  Brass Band  (2nd Section)
Wetherby Silver Band  (3rd Section)
Tingley Brass Band (4th Section).
The afternoon will commence at 4.30pm beginning with the fourth section 'Area' Test Piece and Tingley Brass Band kicking off proceedings. Each band will perform their set work, followed by a piece of their own choice to help make for a relaxed atmosphere.
Entry for the afternoon will be free of charge. There will also be refreshments available throughout the afternoon from the band club's fully licensed bar.