News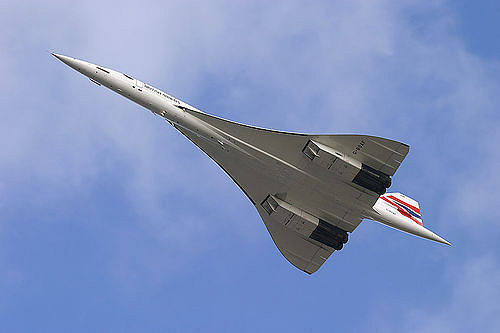 Published on February 10th, 2017
Massed Bands Take To The Airwaves
Triangle Radio, a community radio station based in the Forest of Dean, are set to feature a special 'Strike Up The Brass' show broadcasting highlights from a 'flight' themed concert performed to commemorate the final Concorde ever produced.
As the last Concorde ever made (Concorde 216) moves into a new home at the new Bristol Aerospace Centre, music fans will have a chance to hear an aviation themed concert make a 'return flight'.
On November 27th last year, 270 performers from 3 brass bands and 3 choirs came together just a few runway lengths across Bristol from the new Aerospace Centre, to celebrate the city's aviation heritage.
The "Innovation 216" concert was part of "The Art of Flight" series of events at St George's concert hall in Bristol. On the programme were popular tunes such as "The Dambusters March", "633 Squadron" and "Those Magnificent Men in their Flying Machines".
Brass bands Lydbrook Band and their Training Band, Lydney Training Band and City of Bristol Learner Band were joined by Gurt Lush Choir, Bristol Man Chorus and the University of West of England (UWE) Singers.
The finale was commissioned by Bristol 800 and composed by Dr Liz Lane, Senior Lecturer in Composition & Performance at UWE's Computer Science & Creative Technologies Department. "Innovation 216" was played by the massed brass bands, conducted by Ian Holmes, with the choirs singing words specially written by Jennifer Henderson and members of Bristol's aerospace industry.
The concert was recorded by students from UWE Computer Science & Creative Technologies Department under Lecturer Luke Reed.  With the kind permission of UWE and all the performers, highlights of the concert and an interview with composer Liz Lane will be broadcast on Tuesday 14th February at 7pm and repeated Sunday 18th February at 9pm on Triangle Radio's 'Strike Up The Brass' show.
Triangle Radio is a community radio station based in the Forest of Dean in Gloucestershire, broadcasting via the internet at www.triangleradio.co.uk . 'Strike Up The Brass' plays brass band music with a focus on bands local to the Forest of Dean and the Gloucestershire Brass Band Association area.
Listeners can 'tune in' to the unique concert via the internet on Tuesday 14th & Sun 19th February at www.triangleradio.co.uk