News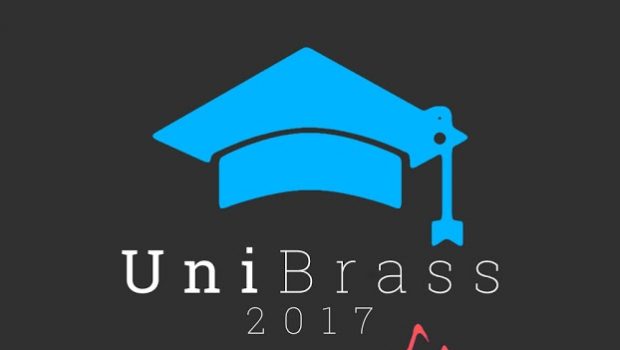 Published on February 12th, 2017
Adjudicator Change As UniBrass Prepare For Weekend Ahead
UniBrass 2017 is less than a week away! With the contest taking place on Saturday, final preparations are well underway across the country.
The 19 competing bands are getting ready to impress the adjudicators with their creative and innovative performances, and we can't wait to see what they've got to offer.
The University of Oxford Brass Band will kick off proceedings in the UniBrass Shield at 11:45, with the UniBrass Trophy commencing at 12:15 with reigning champions the University of Manchester.
The seventh annual contest is bringing a major brass banding event back to Harrogate International Centre, the former national finals venue, and the local brass banding community has been out in force. Tewit Brass Band and Harrogate Brass Band have been working with the contest organising team over the past weeks, ensuring the local community are well aware that brass banding is back! Tewit's senior youth band will also be giving a performance as part of the results ceremony.
Earlier in the year we announced Katrina Marzella as one of the adjudicators for the Shield section. Katrina has recently given birth to a baby girl, and from everyone at UniBrass we would like to congratulate her and her husband. While mother and baby are both doing well, on medical advice Katrina will sadly no longer be able to attend UniBrass.
Katrina told A4B: "As a keen supporter of the contest who is enjoying seeing the event go from strength to strength, I am naturally disappointed to pull out. However I do hope the organisers, bands and participants understand the circumstances. I wish them all a successful day in my hometown of Harrogate and look forward to an association with the UniBrass at another future event."
Katrina's intention to judge at UniBrass so soon after her pregnancy is a testament to her commitment to the event the banding community, and we certainly hope that we will be seeing her at a future contest!
Leigh Baker, MD of Yorkshire's own Hepworth Band, has kindly agreed to step in for Katrina, joining Mark Wilkinson in adjudicating in the UniBrass Shield. Leigh is a former baritone player with the Brighouse and Rastrick Band, a prolific composer and arranger and an established conductor, and took up his position with Hepworth at the start of this year. The committee are very grateful to him for joining us at short notice, and look forward to welcoming him to Harrogate next weekend.
Tickets are still available for the contest and the Cory Gala Concert. Prices are from just £9 for the contest and £10 for the gala concert from the Cory Band, with discounts available for a full day ticket. Get yours now from http://unib.co.uk/tickets . Tickets will also be available on the door and if you can't make it, the whole event will be streamed online at http://unib.co.uk/live