News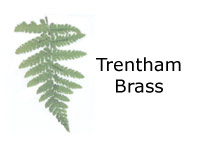 Published on February 22nd, 2017
Foden's Help Trentham Tame The Boggart
On Sunday 12th February the members of Trentham Brass gathered for a six hour rehearsal on this year's Regional Championships Test Piece ' Darkwood" by Dan Price with a seven strong team of tutors from Foden's led by Mark Wilkinson.
During the first hour of full band, MD Mike Caveney regaled the players with sixty year old memories when his grandad, who lived off Victoria Avenue in Blackley, used to take him to Boggart Hole Clough where they sat by the lake drinking lemonade from a glass bottle through a waxed paper straw. After lunch, the band split into sections to work through the piece.
The section tutors, Mark Wilkinson, Alistair Campbell, Neil Raisbeck, Gary Curtin, Shaun Farrington, Anthony Mann and Stewart Baglin spent the following few hours putting the players through their paces.
The full band rehearsal at the conclusion of the day was performed by musicians who were playing with an increased level of self-confidence that had whet their appetite ahead of the forthcoming Midlands Area
Trentham Brass have a dress rehearsal this Sunday at the NEMBBA contest at The Post Mill Centre in South Normanton.