Contests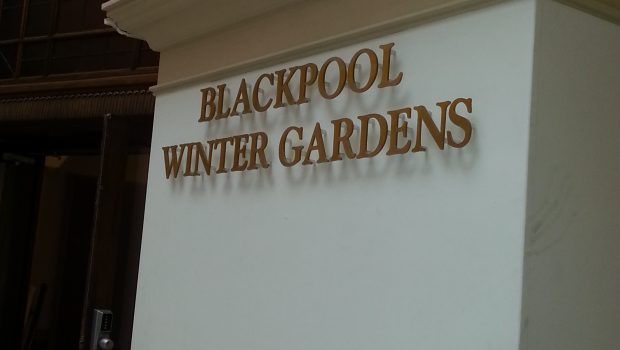 Published on February 23rd, 2017
PREVIEW & PREDICTIONS: North West Regional Championships
The North West 'Area' plays host to some fine bands who have been dominant forces around the country. Held at the Winter Gardens in Blackpool, it is always one of the earlier Area contests and sets the precedent for adjudicators likes and dislikes. Many conductors will venture over to eagerly hear those magic words from an adjudicator that could be the difference between first and last for their own band in a later Area. At a fabulous venue with some marvellous bands, it really is the place that will set the bar for the rest of the performances to come.
Championship section
Test piece: Pageantry
Venue: Winter Gardens (Opera House Theatre), Blackpool
Date: Sunday 26th February 2017
Draw: 1.45pm
Commence: Following 4th section results
Adjudicators: David Lancaster & Roger Webster
Once almost unbeatable in this arena, Foden's have been pipped to the post by the likes of Fairey and Leyland in the past few years. Last year, however, they regained their throne and will be fighting to keep that title. The Fairey band and Leyland, however, will not be giving up without a fight. 2nd  place for Fairey at the National Finals is a huge achievement and Leyland are clearly on form after beating both North West super powers at the British Open last year. Not to be forgotten are Wingates, who were last year's runners up and managed an 8th at the Grand Shield, 4th at the Scottish Open and 3rd at Brass at the Guild recently.
Milnrow are an up and coming band, and have been for a while. 6th at the Areas last year, they are current runners up at Brass at the Guild and Rochdale champions. The runners up at that particular contest, Blackburn and Darwen, have also been working hard. Ashton-Under-Lyne are more tough competition, just being kept out of the prizes last year in 4th and managing a very credible 10th at the Grand Shield last year.
Vernon Building Society Poynton have just been promoted off of a win in the 1st section last year and a and at the finals – clearly a band going in the right direction. They've been joined by Longridge on the promotion scene, who were 3rd in the 1st section Areas, missing out on that Finals place. They came 13th at the Senior Trophy last year, beaten by Roberts Bakery who came 7th and 10th at the Areas before that.
Co-op Funeralcare North West will be looking to build on last year's 8th place and disappointing 20th at the Grand Shield. And finally there is Diggle who managed 9th last year at the Areas and a credible 5th at the All England International Masters.
It's a tough field for bands and will be an excellent days contesting, we have no doubt. We're fairly certain on the top six, but the order could be anyone's guess. Ours is:
1. Fairey
2. Leyland
3. Foden's
4. Wingates
5. Ashton-upon-Lyne
6. Milnrow
Competing Bands:
Ashton-Under-Lyne (Phil Chalke)
Blackburn & Darwen (Neil Samuel)
Co-op Funeralcare North West (Jeff Sparkes)
Diggle (Steven Walsh)
Fairey  (Garry Cutt)
Foden's (Professor Nicholas Childs)
Leyland (Thomas Wyss)
Longridge (Mark Peacock)
Milnrow (Mark Bentham)
Roberts Bakery (Simon Stonehouse)
Vernon Building Society Poynton (Stig Maersk)
Wingates (Paul Andrews)
First Section
Test piece: Land of the Long White Cloud
Venue: Winter Gardens (Arena)
Date: Sunday 26th February 2017
Draw: 8.30am
Commence: 9.30am
Adjudicators: Paul Holland and David Roberts
There's a fair few of these bands that compete in the Spring Festival and that experience should stand them in good stead. Pemberton Old Wigan DW came 7th in the Grand Shield, Rainford won the Senior Cup and Oldham (Lees) came 3rd in the Senior Trophy. Eccles Borough will be joining them, having earned themselves an invite to the Senior Trophy this year off the back of a Wychavon win in both the 1st and championship section last year. These 4 bands go to a fair few contests and it shows in their results – they regularly pick up prizes or are at the right end of the table in the contests they attend which means they should hopefully all be at the right end at this year's Areas. Oldham (Lees), for example, earned themselves a 3rd at Butlins, 2nd and Brass at the Guild and 3rd in the Rochdale top section are showing that they are a force to be reckoned with now they've dropped to the 1st section.
Joining Oldham (Lees) in the 1st section is Freckleton, who were just behind them at Brass at the Guild in 3rd place, but beat them in the Areas last year. The other bands on average points are Tyldesley and Manx Concert, who join them up from the 2nd section. Coming up with a 4th and 6th in the 2nd section Areas is perhaps not the most promising start but you can never be sure – these bands could be some real dark horses.
Silk Brass and Poulton-Le-Fylde both attended Rochdale and came 6th and 7th respectively. Last year they came 8th and 12th at the Areas and I'm sure will be looking to improve on those results.
Haslingden &Helmshore came 5th last year at the Areas. Closely followed by Wardle Anderson, Mossley and Bollington in 9th. These bands have slightly less contesting experience and could perhaps work against them, though Bollington have attended a few smaller contests recently.
Anything could happen, especially when you throw relegated and promoted bands into the mix. At All4Brass we're going for a top 6 order of:
1. Rainford
2. Oldham (Lees)
3. Pemberton Old Wigan DW
4. Eccles Borough
5. Haslingden & Helmshore
6. Freckleton
Competing Bands
Bollington Brass (Peter Christian)
Eccles Borough (Mareika Gray)
Freckleton (Paul Dalton)
Haslingden & Helmshore (Chalkers) (Simon Cowen)
Manx Concert Brass (Ian Clague MBE)
Mossley (Duncan Byers)
Oldham (Lees) (John Collins)
Pemberton Old Wigan DW (Ben Dixon)
Poulton-Le-Fylde (Matthew Ryan)
Rainford (Gareth Brindle)
Silk Brass (Tony Wyatt)
Tyldesley IRobert Taylor)
Wardle Anderson Brass (Sean Conway)
Second Section
Test piece: Rhapsody in Brass
Venue: Winter Gardens (Pavillion)
Date: Sunday 26th February 2017
Draws: 10.00am & 12.15pm
Commence 11.00am
Adjudicators: Stephen Roberts & Kevin Wadsworth
With 21 bands in the 2nd section it's certainly a tough field. One thing is for sure, the North West bands contest a lot and are very competitive nationally. One band on a very good run at the moment is Pemberton Old Wigan DW B Band. Since taking on their new MD they have been on the up and are current Butlins, Brass at the Guild and Rochdale champions. Also competing at Butlins alongside them were Besses Boys' and Haydock, managing a 7th and 5th respectively, two very good results in a tough field. Haydock are last year's Areas reigning champions so will be coming back to defend their title. Boarshurst could also be in the mix there, having earned a 3rd at the National Finals last year, beating Haydock who came 4th.
With such big sections there is always a lot of movement and the 2nd section in the North West sees 3 promoted bands from the 3rd section, 3 relegated from the 1st and one new band to boot! New bands could always throw the status quo off-kilter a little, and most of these bands have certainly been very competitive recently. Valley Brass (Haydock), Blackpool and Besses o' th' Barn came 1st, 2nd and 5th in the 3rd section Areas last year respectively, with Valley Brass earning a 9th at the Finals and Blackpool earning a 6th. Blackpool also came runners up at Brass at the Guild which stand them in good stead for the coming competition. Marple, Hazel Grove and Whitworth Vale and Healey all descend from the 1st section but were competitive bands in their years in the 2nd so could come and make a real mark. Then there is Horwich RMI, a new band on the scene who so far have managed a 6th at Brass at the Guild and a 9th at the Darwen March Contest.
Delph have been another band out contesting a few times this year and have earned respectable 3rd and 4th at Buxton and Brass at the Guild, which I'm sure will be filling them with confidence to build on their 12th from last year at the Areas. Crewe came 8th at Brass at the Guild, and will be using any feedback to improve on their excellent 5th place from last year's Areas. Cheshire Constabulary have a 2nd from last year to improve on, a tough ask for them, but I'm sure they will be giving it a good go.
Rochdale is a popular contest for North West bands, with nearly half of this year's competing bands attending. As well as Pemberton being the champions and Besses Boys' runners up, Uppermill and Middleton came 3rd and 4th and will be looking to replicate those results at the Areas. Bands places 7-11 were Hoover Bolton, Darwen, Golborne, Old Hall and Flixton, bands who regularly compete in many contests. Hopefully this experience will serve them well.
In such a big field it could be anybody's win. We at All4Brass are going for a top 6 of:
1. Pemberton Old Wigan DW B
2. Haydock
3. Boarshurst
4. Besses Boys'
5. Blackpool
6. Valley Brass (Haydock)
Competing Bands
Besses Boys' (James Holt)
Besses o'th'Barn (Kenny Pain)
Blackpool Brass (John Pearson)
Boarshurst Silver (James Garlick)
Cheshire Constabulary (David Woollam)
Crewe Brass (Jamie Meredith)
Darwen Brass (Steve Hartley)
Delph (Philip Goodwin)
Flixton (Ian Brownbill)
Golborne (Mark Harrison)
Haydock (Mark Quinn)
Hazel Grove (Nigel Beasley)
Hoover Bolton (Craig Mann)
Horwich RMI (Matt Ryan)
Marple (Stephen Curtis)
Middleton (Kevin Gibbs)
Old Hall Brass (John North)
Pemberton Old Wigan DW "B" (Michael Golding)
Uppermill (Dean Redfern)
Valley Brass (Haydock) (David Chapman)
Whitworth Vale & Healey (Christopher Binns)
Third Section
Test piece: Darkwood
Venue: Winter Gardens (The Arena)
Date: Sunday 26th February 2017
Draws: 1.00pm & 3.00pm
Commence: After results of 1st Section
Adjudicators: Steve Pritchard-Jones & Glyn Williams
The 3rd section is another big section with 18 bands. The bands compete regularly and this shows in their standing nationally with the North West being very competitive. Eccleston are a prime example of this, being current Brass at the Guild champions. They have just been relegated from the 2nd section but were very competitive the last time they were in the 3rd section. City of Chester have joined them in the relegation zone and will be looking to prove themselves in the 3rd section. Farnworth and Walkden were also successful at Brass at the Guild with a 5th place and will be looking to build on their 3rd place last year, especially after a respectable 5th place at the National Finals. Pilling Jubilee managed 3rd at Brass at the Guild and are current Kirkby Lonsdale champions. This confidence can only help as they look to build on their 11th from last year.
Current Holme Valley champions, Greenfield, have had some excellent results recently. A 2nd at Butlins and 3rd at Rochdale will serve them will to improve on their 8th at the Areas in 2016. Rochdale proved popular amongst the North West bands, and Greenalls, Trinity Girls, Littleborough and Skelmersdale all placed between 5th and 8th and will certainly be looking to replicate or improve on these results at the Areas. Eagley have been quiet this year but a 4th from last year stands them in good stead.
The two promoted bands of Formby and Stalybridge Old were very competitive in the 4th section, gaining 2nd and 3rd at Rochdale respectively, they'll be looking to make their mark in the 3rd section. Hawk Green (Marple) were runners up at Buxton, beating Coppull and Standish who managed 7th. Both bands will be looking to improve on this result. Dobcross have a new man in the middle now, so could be a real dark horse. Douglas Town haven't contested since last year so should have had plenty of time to prep. Rivington and Adlington and Stacksteads will be looking to improve on their 16th and 17th from last year to avoid their relegation.
Lots of successful bands to choose from in this year's pool. We're going for:
1. Eccleston
2. Farnworth and Walkden
3. Eagley
4. Pilling Jubilee
5. City of Chester
6. Greenfield
Competing Bands
City of Chester (Ewan Easton)
Coppull & Standish (Matt Stringer)
Dobcross Silver (Grenville Moore)
Douglas Town (Ken Mitchell)
Eagley (Chris Wormald)
Eccleston Brass (John Wood)
Farnworth & Walkden (Matt Shaw)
Formby (Louise Hough MBE)
Greenalls (Phil Boardman)
Greenfield (Tom Haslam)
Hawk Green (Neil Hewson)
Littleborough (Adrian Woodhead)
Pilling Jubilee Silver (Len Charnock)
Rivington & Adlington (Malcolm Wilson)
Skelmersdale Prize (James Hall)
Stacksteads (Fred Bowker)
Stalybridge Old (David Ashworth)
Trinity Girls (Ryan Watkins)
Fourth Section
Test piece: St Andrew's Variations
Venue: Winter Gardens (Opera House Theatre)
Date: Sunday 26th February 2017
Split Draw: 9.00am & 11.00am
Commence: 10.00 a.m.
Adjudicators: Gary Davies & Simone Rebello
Not only are there two relegated bands in the 4th section this year, but also two new bands. An excellent effort from the North West Area team. The two relegated bands, Parr (St Helens) and Ramsey Town haven't contested a lot recently, and Ramsey Town were sadly forced to withdraw from last year's event. Hopefully they'll both find it a bit easier in the 4th section. The new bands are Allerton and Heyrod. Allerton are current Rochdale champions and came 5th at Brass at the Guild. Heyrod are significantly harder to find information on. A newly formed band, they seem to have done amazing work in raising money for charity and one of their most recent Facebook posts boasts a full band. They could be a real dark horse.
Last year's champions return in the form of Thornton Cleveleys. A 4th place at the Finals and current Brass at the Guild champions should give them the confidence to go on and fight to retain that title. BMP (Europe) Goodshaw will be battling it out alongside them, boosted by their runners up position at Butlins. Just behind them were Buxton runners up Sale who managed a 7th at Butlins.
Once again Brass at the Guild proved popular amongst the North West bands. Brindle, Rode Hall, Tarleton, Lostock and Blackley all competed, coming between 4th and 9th. Hopefully that run will prove useful to help the bands carry on progressing. Blackley have certainly been contesting a lot and hopefully that should work in their favour.
Stockport have been out at a couple of contests and been appearing at the right end of the table. Cadishead Public have also appeared at Darwen March contest. Lees, Dobcross Youth and Denton haven't been contesting elsewhere. Hopefully this inexperience won't work against them and they can all carry on improving.
A tough call in the 4th section. Our prediction is:
1. Thornton Cleveleys
2. BMP (Europe) Goodshaw
3. Allerton
4. Heyrod
5. Sale
6. Tarleton
Competing Bands
Allerton Brass (Adam Taylor)
Blackley (John Atkinson)
BMP Europe Goodshaw (Joshua Hughes)
Brindle (Keith Richmond)
Cadishead Public (David Holland)
Denton Brass (Matthew Bailey)
Dobcross Youth (Matt Hindle)
Heyrod Brass (Lee Dunkley)
Lees (Adam Nield)
Lostock Hall Memorial (Phil Edwards)
Parr St. Helens (John Ludden)
Ramsey Town (Robert Quane)
Rode Hall Silver (Nigel Butler)
Sale Brass (Alan Seymour)
Stockport Silver (Ian Colwell)
Tarleton Brass (Gillian Bould)
Thornton Cleveleys (Stephen Craig)