Contests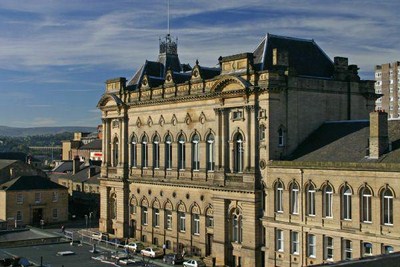 Published on March 2nd, 2017
PREVIEW & PREDICTIONS: Yorkshire Regional Championships
The bands of Yorkshire have a new temporary home this year, as the iconic St. George's Hall is undergoing repairs and refurbishment. Of course, this is not the first time that the Yorkshire 'Area' has been held here. Huddersfield Town Hall was home to the lower sections of the Regional Championships as recently as 1994 and so for some, will bring back great memories. For the younger generation, this will be new and a completely different experience. Of course, the question on everyone's list; will you still have to stand outside in the cold queuing to get in? (not that us hardened Yorkshire folk ever complain about such matters!)
Championship Section
Sunday, 5th March 2017
Test Piece: Pageantry (Herbert Howells)
Adjudicators: Stephen Roberts and Sandy Smith
Draw: 1.15 p.m.
Start: 3.15 p.m.
With the reduced capacity of the Huddersfield Town Hall compared to that of the St. George's, it was hardly surprising to discover that tickets to hear Yorkshire's elite have sold out before the big day, so it worth reiterating again, unless you already have your tickets, don't travel!
So what of the contenders? This is perhaps the easiest section of them all to say who will feature in the top six and who wouldn't, as few would disagree that the top section of Yorkshire really is a group of two halves. In one half there are the bands famous around the world, competing at the highest level and representing the UK on an international level. In the other half, are the best of the rest, full of musicians who can't wait to share a stage with some of the best bands in the country and perhaps, if all comes together on the day, throw a cat amongst the pigeons with a result that surprises the banding world. This happens much more regularly than you might think!
So whilst Black Dyke, Grimethorpe, Brighouse & Rastrick, Carlton Main Frickley and Rothwell look once again to claim the top four spots, Hepworth (with their new partnership with Leigh Baker), Hammonds, City of Bradford and the Yorkshire 'Imps' will be hoping to be one of the bands who take a scalp or two.
This year sees four bands promoted to the top section and of course, the aim for these bands is consolidation. Ensure a performance that will see them back in the top section for another year or two to come. Two years ago, Chapeltown Silver Band were competing in the second section, however, this isn't there first time competing in the top section. In 2004 they achieved championship section status for the first time in their history. It only lasted a year however, so they'll be hoping for a longer innings this time around.
Elland Silver are another newly promoted band this year and were enjoying fantastic success in the first section under the baton of Danny Brooks. History will be made for the on Sunday afternoon, as they have never in their history achieved championship section status before.  Also promoted are Hatfield band under the direction of Stan Lippeatt after a seven year stint in the first section. They have the potential and the leadership to ruffle some feathers here at the weekend.
So what of the predictions? Well, we feel most bands will be able to perform the Test Piece without issue, but direction from the front, overall interpretation and the atmosphere created by the players will decide the differences on the day…
1. Black Dyke
2. Grimethorpe Colliery
3. Carlton Main Frickley
4. Brighouse & Rastrick
5. Rothwell Temperance
Competing Bands:
Black Dyke (Prof.Nicholas J Childs)
Brighouse and Rastrick (Dr David Thornton)
Carlton Main Frickley Colliery (Erik Janssen)
Chapeltown (Andrew Dennis)
City of Bradford (Lee Skipsey)
Elland Silver (Daniel Brooks)
Grimethorpe Colliery (Phillip McCann)
Hammonds Saltaire (Morgan Griffiths)
Hatfield (Stanley Lippeatt)
Hepworth (Leigh Baker)
Rothwell Temperance (David Roberts)
Strata (Alan Hobbins)
Yorkshire Imperial Urquhart Travel (Russell Gray)
First Section
Saturday, 4th March 2017
Test Piece: Land of the Long White Cloud (Philip Sparke)
Adjudicators: David Hirst and Ewan Easton
Draw: 2.45pm
Start: 4.45 pm approx
Philip Sparke's 'Land of the Long White Cloud' was last selected for use by the music panel for use here in the first section back in 1995. The line-up of bands has changed quite a bit since then, however, the winners here in Yorkshire on that day were the Stocksbridge Engineering Steels Band, now under their current incarnation of Unite the Union. They will be hoping history can repeat itself, albeit, in on a different stage.
Relegated from the top section this year are the Marsden Band, who gave this piece a great run out in Preston a few weeks ago. Confidence should be high as they take to the stage, though they'll know they can take nothing for granted if they want to return to the top level for the first time of asking. Also pushing for one of the qualifying places will be Drighlington who came down from the championship section only last year. Couple those two with the likes of Skelmanthorpe and South Yorkshire Police, both bands who have enjoyed success at this level, then you begin to get a picture of a contest that will be very close to call.
Looking to make impressions will be Stannington and Old Silkstone. Stannington are promoted this year as second section champions of Great Britain and MD Derek Renshaw knows what is needed to consolidate their place against so many good bands here. Sam Fisher has also been working his magic on the players of Old Silkstone over the last couple of years and this time they see a return to the first section for the first time since 2012.
The standard this year is incredibly high and every band is going to have to work hard for their results, especially given that most of the bands competing here have been of championship section status not too long ago…
1. Marsden
2. Skelmanthorpe
3. Drighlington
4. Stannington
5. Unite The Union
Competing Bands:
Cornerstone (Damian Wileman)
Drighlington (Duncan Beckley)
Hade Edge (Jonathan Beatty)
Hebden Bridge (Robert Savage)
Knottingley Silver (Kevin Belcher)
Lindley (Neil Jowett)
Marsden Silver (Alan Widdop)
Old Silkstone (Sam Fisher)
Skelmanthorpe (Jim Davies)
South Yorkshire Police (Jack Capstaff)
Stannington (Derek Renshaw)
Unite the Union (John Roberts)
Second Section
Saturday, 4th March 2017
Test Piece: Rhapsody in Brass (Dean Goffin)
Adjudicators: Leigh Baker and David Roberts
Draw: 7.45 am
Start: 9.15 am
Out of all the sections here in Yorkshire, we feel that the second section will be the most difficult of them all to call. Not only are many of the bands finely balanced in terms of their ability and current form, but the set work, the magnificent 'Rhapsody for Brass' just throws up so many pit falls which we feel few bands will come away with scot free. Pressure of course will be on the soloists and they'll need the support of the players around them to provide the much needed groundwork of the piece.
So, who to look to first? Crofton Silver have been producing some fine performances of late. The National Champions of the third section travelled to Butlins in January to come away with third place following their promotion. A similar result here is certainly not beyond them. Also looking good following a recent promotion are Horbury Victoria who were promoted last year and finished third here twelve months ago and so will be looking for another good result this time out.
Not too long ago, Meltham & Meltham Mills were competing in the championship section. A string of poor results at the Regionals sees them now in the second section for the first time in 20 years. They'll be keen to get back on track and start the steady climb back up. Skelmanthorpe Prospect are another band who have been rather unlucky in recent years, in that their great performances here haven't quite been 'error free' enough to see them qualify for the Nationals. The last three years has seen them always around the top four, could this be their year? Wakefield Metropolitan will be hoping that they can claim a result that will spearhead their return back to the top section, following their relegation last year.
That just leaves a solid core of bands in the form of Clifton & Lightcliffe, Emley, Frickley (South Elmsall), Kippax, Slaithwaite and newly promoted, Worsbrough Brass. With a piece that relies heavily on some of the corner players, we could see anyone of these bands featuring at the weekend if all the basics are in place and nerves are held on the day…
1. Crofton Silver
2. Skelmanthorpe Prospect
3. Horbury Victoria
4. Slaithwaite
5. Meltham & Meltham Mills
Competing Bands:
Clifton & Lightcliffe (John Clay)
Crofton Silver (Dean Jones)
Emley (Garry Hallas)
Frickley/South Elmsall (James Hobbis)
Horbury Victoria (Duncan Beckley)
Kippax (Ian Knapton)
Meltham & Meltham Mills (Tim Sidwell)
Skelmanthorpe Prospect (Philip Garlick)
Slaithwaite (Rob Westacott)
Wakefield Metropolitan (Richard Larder)
Worsbrough Brass (John Hopkinson)
Third Section
Sunday, 5th March 2017
Test Piece: Darkwood (Dan Price)
Adjudicators: Jim Davies and Glyn Williams
Draw: 8.00 am
Start: 10.00 am
Darkwood is a piece that really does test the band as a group, rather than individuals. With so much detail in Dan Price's score given to the MD's, basics will be a key thing on Sunday morning.
First under scrutiny for us is BD1 Brass, under the leadership of the charismatic Lee Skipsy. They were promoted last year and finished in a very credible 6th. With a great result on this piece at Brass At The Guild, they should be a force to be reckoned with at the weekend. Watch out for their star young solo cornet player, that always amazes those in the audience. Alongside BD1 looking for a podium finish will be Barnsley Brass. Once in the heights of the Championship competing against the best bands in the country, recent years has seen the band drop down sections. The band has the talented Billy Rushworth at the helm and he will be looking to guide them back up at the first time of asking.
Dronfield Genquip are another strong band who will certainly be looking at promotion this time around. Relegated in 2015 from the 2nd section, 2016 saw the band finish 2nd and qualify for the National Finals. Also looking for a return to former glory will be Dodworth Colliery who finished 10th here last year and now have a string of disappointing results behind them. However, with the talent they have around the stands and the leadership of their MD, Eliot Darwin, Darkwood may offer them the chance to show how good they can be.
Inconsistencies have plagued Dinnington Colliery here at the Yorkshire 'Area' over the last few years, now under the baton of MD Lindon Bolt. The band will be looking to restore themselves after their last place in the second section last year and begin the push back for promotion. Another band to watch out for will be the West Yorkshire Police, under the direction of MD Kevin Wadsworth, who last year finished in 5th place after a break from contesting since 2010.
With a good mix of bands all pushing for a top six placing, this could be a very tough contest and we think the judges may have a hard time separating some of the performances. Here's our attempt, before the first note has been played…
1. BD1 Brass
2. Barnsley Brass
3. Dronfield Genquip
4. West Yorkshire Police
5. Dodworth Colliery
Competing Bands:
Armthorpe Elmfield (Haydn Griffiths MBE)
Barnsley Brass (William Rushworth)
Barnsley Met (Alex Francis)
BD1 Brass (Lee Skipsey)
Dinnington (Lindon Bolt)
Dodworth Colliery (Eliot J Darwin)
Dronfield Genquip (Robert Straw)
Lofthouse 2000 (Andrew Whittaker)
Maltby Minors (Terry Clifford)
Oughtibridge (Gavin Somerset)
Rockingham (Adam Whittle)
West Yorkshire Police (Kevin Wadsworth)
Whetheby Silver (Derek Warley)
Fourth Section
Saturday, 4th March 2017
Test Piece: St Andrew's Variations (Alan Fernie)
Adjudicators: Mareika Gray and Sandy Smith
Draw: 11.30am
Start: 1.30 pm. approx
The fourth section this year once again sees a low turnout. Many years ago, like so many other regions, this was the largest section of the weekend. In 2014, only 8 bands competed. There are eleven bands registered in this section for 2017, however only 9 will be taking part this time around.
One band that won't have far to travel to this year's 'Area' is Huddersfield and Ripponden Brass under the leadership of MD Adam Bell. Huddersfield had a good run last year finishing 4th and with a good show again this year, could well be amongst the prizes. With only one of the relegated bands competing here this year, Huddersfield could feel it's theirs to lose.
After winning this contest and representing Yorkshire at the National Finals back in 2014, Clifton & Lightcliffe B enjoyed a two year period in the third section, however, following a couple of poor results, they are back down again this year. They certainly have the capability of putting on a show that could see them travelling back to Cheltenham. Thurcroft Welfare Band have gone from strength to strength over the last couple of years and their young talented MD, Matthew Wright will be hoping they can improve last year's result of 3rd and go some steps further to book a ticket at the National Finals, as well as promotion if other results go their way.
Deepcar Band will be full of confidence as they look to claim a podium place for the first time in their history. MD, Cathryn Rogers took over in 2016 as has the band performing well under her direction. Last year, they reached their highest ever placing at the Yorkshire Regional Championships. They'll be looking to break that record on Saturday. Just down the road from Deepcar, Loxley will also be looking to improve on past results and gain a placing higher than their sixth place a couple of years ago.
Tingley Band are almost certain to walk out on stage with a swagger, following on from the second place at Brass at the Guild. With another month's work under their belt, they could be the band to beat on Saturday. Like many bands, Linthwaite Band for a time looked uncertain as to whether they'd have the players available to take to the Regional stage. Thankfully, a drive for recruitment sees them here and who knows, they may just surprise a few.
With so many variations and styles to perfect in Alan Fernie's Test Piece, we expect that the adjudicators will be hoping that the MD's will not have forgotten about the basics of intonation, balance and playing together, all of which are essential to finish in the prizes at this level…
1. Tingley Band
2. Clifton & Lightcliffe
3. Huddersfield & Ripponden
4. Thurcroft Welfare Band
5. Deepcar
Competing Bands:
Clifton & Lightcliffe B Band (John Clay)
Deepcar (Cathryn Rogers)
Friendly Band (Neil Robinson)
Gawthorpe Brass (John Edward)
Huddersfield and Ripponden Brass (Adam Bell)
Linthwaite (Paul Kershaw)
Loxley Silver (Lee Dunkley)
Thurcroft Welfare (Matthew Wright)
Tingley Brass (John Belton)