Contests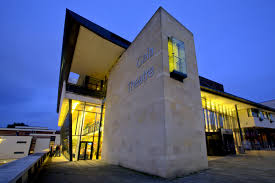 Published on March 9th, 2017
PREVIEW & PREDICTIONS: North of England
The North of England bands head to Durham this weekend for their Area at the Gala Theatre. As their 'Area' falls on the third weekend, we wonder whether MDs will have looked at previous results to gain any possible advantage over their fellow competitors. The venue is a lovely venue to be in, the city marvellous and the atmosphere electric. It looks to be a superb weekend of contesting.
Championship Section:
Sunday 12th March
Test piece: Pageantry
Adjudicators: Dr. Roger Webster and Richard Marshall
Draw 1.30pm
Commences: 3.00pm (approx after the conclusion of Third Section)
Reigning champions Reg Vardy will be clamouring to regain their crown. A band that has been on the up in national standing with a world class MD at the helm they are certainly the ones to beat. Many of these bands have conductors that have previously competed. NASUWT's David Roberts and Reg Vardy's Russell Gray both competed at Yorkshire with Roberts' Rothwell beating Gray's Imps. EYMS' MD Stig Maersk competed with VBS Poynton in the North West. All three MDs and bands are incredibly experienced and will be looking to earn a place at the Finals.
It's brother on brother this year in the top section with newly promoted Lockwood being led by John Roberts who had a very impressive 2nd with Unite the Union band in the 1st section of Yorkshire last weekend. They are current French Open champions and managed 10th out of 17th at their National Finals after winning the 1st section last year. Fishburn's conductor also competed at the Yorkshire Area last week and was the most successful, though it was with a bass rather than a baton in his hand. Joe Cook will be looking to replicate his own success this weekend.
Easington Colliery have been doing steadily better at the Area recently, managing a 5th last year. They'll be looking to improve on their last place at Brass in the Guild a few weeks ago. York RI and Kirkbymoorside don't compete as much as the other bands, but they've both done very well in recent years in a tough section to cling onto.
The top few bands tend to stay fairly constant at this Area, though the order could change. And with Pageantry proving to come down more to personal taste, anything could happen. With fewer bands in the sections it seemed rather unfair to predict a top 6. We're going for a top 4 of:
1. Reg Vardy
2. NASUWT Riverside
3. EYMS
4. Fishburn
Competing Bands:
Easington Colliery (Ian Robinson)
East Yorkshire Motor Services (Stig Maersk)
Fishburn (Joseph Cook)
Kirkbymoorside Town (John Woodward)
Lockwood Brass (John Roberts)
NASUWT Riverside (Dave Roberts)
Reg Vardy (Russell Gray)
York Railway Institute (Dr David Lancaster)
First Section:
Sunday 12th March
Test piece: Land of the Long White Cloud
Adjudicators: Dr. Roger Webster and Richard Marshall
Draw: 8.30am
Commences: 10.00am
Coming down from the top section is the Shepherd Group band. They're a band who take their contesting seriously, showing their faces at the contests that have tough competition, which has finally paid off as they earned a Spring Festival place after a 3rd place at Bolsover in October in the top section. Fighting them off for the top spot will be Harrogate band with Dean Jones at the helm who has recently been incredibly successful with Crofton in Yorkshire. They attended Brass at the Guild in January and managed a 4th place, closely followed by Ripon in 5th. All three bands will be pushing for a Nationals place.
A couple of bands competed against each other at the YHBBA contest. Both Westoe and Dunston showed their face there, with Westoe managing a 5th and Dunston 11th. Dunston and their charismatic MD are newly promoted, after winning the 2nd section last year, though adjudicator Alan Morrison announced that no band had been truly been able to master the Mermaid of Zennor. The band did not attend the Finals after a poorly timed players wedding!
Cockerton and GT Group Peterlee are the other two bands attending. Cockerton don't have the best contesting record nationally but will be looking to improve on that this year, with Peterlee not competing between Areas.
In such a small section one place could be the difference between relegation and promotion. We think the top 4 will be:
1. Shepherd Group Band
2. Harrogate
3. Ripon City
4. Westoe Brass
Competing Bands:
Cockerton Band (Michael Hardman)
Dunston Silver (Aiden Hodgson)
GT Group Peterlee (Trevor Langthorne)
Harrogate (Dean Jones)
Ripon City (Martin Hall)
Shepherd Group Band (Richard Wilton)
Westoe Brass (Lee Morris)
Second Section:
Saturday 11th March
Test piece: Rhapsody in Brass
Adjudicators: Leigh Baker and Richard Marshall
Draw: 10.30am
Commences: 12:00pm
Leigh Baker has already adjudicated the 2nd section at Yorkshire and one MD who already has experience of him is Garry Hallas of East Riding. His band Emley only managed a 10th but hopefully the comments from Mr Baker will prove most helpful. The 2nd section is lacking a demoted band from the 1st section due to a South Milford not entering, but there is J36 who have come up from the 3rd. A new band, they have proved very successful in the 3rd section with a 2nd place at the Finals, and will certainly be looking to replicate this success in the 2nd. Bearpark came up with them, but sadly have not quite replicated their success nationally.
Houghton and Ashington are the two highest placed bands from last year still in the 2nd section after Dunston were promoted. Neither compete a lot outside of the Durham League and whilst not the most successful nationally over recent years, they do compete well in their own Area. Durham are possibly the most active in competitions and are current Picnic in the Park champions. Ellington are the current Fife Festival champions and NASUWT the current Stanley Entertainment champions. All of these bands will be looking to add another trophy to their cabinet.
Rhapsody is tough in the 2nd section, but it should be an enjoyable contest. We're going for a top 4 of:
1. J36 Brass
2. Houghton Brass
3. Ashington Colliery
4. East Riding of Yorkshire
Competing Bands:
Ashington Colliery (David Kendall)
Bearpark & Esh Colliery (Peter Elcoat)
Durham Miners Association (Stuart Gray)
East Riding of Yorkshire Band (Gary Hallas)
Ellington Colliery (Jonathon Fenwick)
Houghton Brass (Tom Gibson)
J36 Brass (Andrew Warriner)
NASUWT Concert Brass (John Bell)
Third Section:
Sunday 12th March
Test piece: Darkwood
Adjudicators: John Doyle and Andrew Warriner
Draw: 10.45am
Commences: 12:15pm (approx, after the conclusion of First Section)
North Skelton seem on good form and look strong contenders this year. 3rd place last year, they've come runners up at Durham League, YHBBA and Ripon. Ferryhill are the current Durham League champions and came 3rd at YHBBA so will be fighting North Skelton for that top spot. Backworth, Billingham and Murton also all attended the Durham League contest, coming in places from 4th to last. Billingham are the band coming down from the 3rd section.
Swinton are coming up from the 4th section off a 3rd place and a win at Bolsover that should fill them with confidence. Then there's Marske, Cleethorpes and Barton who will also be looking to improve on last year's results. Marske and Cleethorpes have managed 5th at one contest apiece, but Barton have not made it out anywhere this year so are difficult to place.
A tough call, especially as the bands contest less and less the further down the sections they go. We're going for a top 4 of:
1. North Skelton
2. Ferryhill Town
3. Murton Colliery
4. Marske Band
Competing Bands:
Backworth Colliery (Colin Harris)
Barton Community (Gary Oglesby)
Billingham Silver (Vaughn Evans)
Ferryhill Town (Andrew Hall)
Kingsway Printers Cleethorpes (Brian Harper)
Marske Band (Alun Prest)
Murton Colliery (Richie Wallace)
North Skelton (Lewis Wilkinson)
Swinton & District Excelsior (Robin Rutter)
Fourth Section:
Saturday 11th March
Test piece: St Andrew's Variations
Adjudicators: Leigh Baker and John Doyle
Draw: 1.00pm
Commences: 2:30pm (approx, after the conclusion of Second Section)
Jayess Newbiggin and Knaresborough seem clear favourites for this competition. Last year's 1st and 2nd, they attended the Finals and came 9th and 10th respectively. Jayess are also current Durham League champions. Lanchester could be close behind them. With new MD Gareth Sykes at the helm they've been doing significantly better, coming 2nd at Durham. They could be one to watch. Just behind them at Durham were Spennymoor, Craghead and Trimdon.
Trimdon are recently relegated, so do have more experience with tougher test pieces. Burneside were also relegated with them, but haven't placed at a contest this year. Penrith haven't contested at all this year, but will certainly be looking to build on their 4th from last year.
At A4B, we're going for a top 4 of:
1. Jayess Newbiggen
2. Knaresborough Silver
3. Lanchester
4. Spennymoor Town
Competing Bands:
Burneside (Laurie Johnston)
Craghead Colliery (Jack Dodds)
Jayess Newbiggin Band (Andrew Griffiths)
Knaresborough Silver (Steve Morland)
Lanchester (Gareth Sykes)
Penrith Town (Mark Wilkinson)
Spennymoor Town (Neil Davis)
Trimdon Concert Brass (Tina Mortimer)