Contests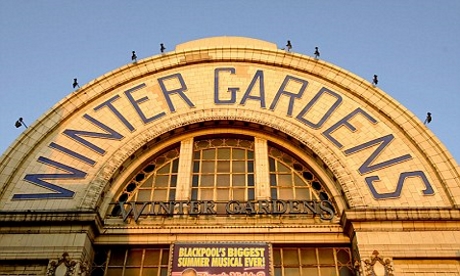 Published on March 23rd, 2017
Spring Festival 2017 Line Ups Announced
The organisers of the 97th British Open Spring Festival have announced further details for the contests which will take place at Blackpool's Winter Gardens on Saturday 13th May.
The Grand Shield will be the first event to go get under way in the Opera House at 10.00am, with the Senior Cup starting in the Pavilion Theatre at 10.30am and Senior Trophy in the Spanish Hall at 11.15am.
The adjudicating team who will make the all important decisions comprises of John Doyle, Paul Holland, Thomas Hutchinson, Ian Porthouse, Allan Ramsay and Steve Sykes. The pairings for each section will be announced on the day.
Tickets will be available on the day from the Box Office with adults £12.00 and concessions £7.00.
The Grand Shield:
Opera House
Test Piece: Reflections on Swan Lake (Stephen Roberts)
First Prize: £800 and Grand Shield
Second Prize: £600
Third Prize: £400
Fourth Prize: £300
Commence: 10.00am
Draws: 9.00am & 12.30pm
Aldbourne (David Johnson) (S)
Ashton-under-Lyne (Philip Chalk) (S)
Burry Port Town (Andrew Jones) (S)
Camborne Town (Kevin Mackenzie) (F)
Hammonds Saltaire (Morgan Griffiths) (F)
Hepworth (Leigh Baker) (S)
Kirkintilloch (tba) (S)
Llydcowedd (Chris Turner) (F)
NASUWT Riverside (David Roberts) (S)
Northop Silver (Paul Hughes) (F)
Pemberton Old Wigan DW (Ben Dixon) (S) Rainford (Gareth Brindle) (F)
Reg Vardy (Russell Gray) (S)
Thoresby Colliery (Ian McElligott) (F)
Tongwynlais Temperance (Michael Fowles) (F)
Unite the Union (John Roberts) (S)
Virtuosi GUS (Adam Cooke) (F)
Whitburn (Prof. Nicholas Childs) (F)
Wingates (Paul Andrews) (S)
Woodfalls (Dr Robert Childs) (F)
The Senior Cup:
Pavilion Theatre
Test Piece: Fragile Oasis  (Dr Peter Meechan)
First Prize: £600 and Belle Vue 100 Guinea Challenge Cup
Second Prize: £400
Third Prize: £300
Fourth Prize: £200
Commence: 10.30am
Draws: 9.30am & 1.00pm
Blackburn & Darwen (Neil Samuel) (F)
City of Cardiff (Melingriffith) (Dewi Griffiths) (F)
Co-operative Funeralcare (North West) (Jeff Sparkes) (S)
Derwent Brass (Keith Leonard) (S)
East Yorkshire Motor Services (Stig Maersk) (F)
Filton Concert Brass (Tom Davoren) (S)
Friary Guildford (Chris King) (S)
Goodwick Brass (Matthew Jenkins) (F)
Jackfield (Elcock Reisen) (Simon Platford) (S)
Kingdom Brass (Paul Drury) (S)
Marsden Silver (Alan Widdop) (F)
Newtongrange Silver (Andrew Duncan)  (F)
Oldham (Lees) (John Collins) (F)
Ratby Co-operative (Howard Evans) (S)
Redbridge (Jeremy Wise) (F)
Skelmanthorpe (Jim Davies) (S)
St Dennis (Darren Hawken) (S)
Staffordshire (Steven Walsh) (F)
Vernon Building Society Poynrton) (tba) (F)
Yorkshire Imperial Urquhart Travel (tba) (S)
The Senior Trophy:
Spanish Hall
Test Piece: Salute to Youth (Gilbert Vinter)
First Prize: £600 and Senior Trophy
Second Prize: £400
Third Prize: £300
Fourth Prize: £200
Commence: 11.15am
Draws: 10.15am & 1.20pm
Aveley & Newham (Alan Duguid) (S)
BTM (Jeff Hutcherson) (F)
Bo'ness & Carriden (Thomas Wyss) (S)
Dalmellington (Richard Evans) (F)
Downshire Brass (Prof Michael Alcorn) (F)
Drighlington  (Duncan Beckley) (S)
East London Brass (Jayne Murrill) (F)
Eccles Borough (Mareika Gray) (S)
Fishburn (David Hirst) (F)
Hatfield (Stan Lippeatt) (S)
Laganvale (Metal Technology) (Stephen Crooks) (F)
Longridge (Mark Peacock) (F)
Lydbrook (Glyn Williams) (S)
Medway (Melvin White) (F)
Newstead Brass (John Davis) (F)
Roberts Bakery (Simon Stonehouse) (S)
Shepherd Group (Richard Wilton) (F)
SPAL Sovereign Brass (Trevor Jones) (F)
Tylorstown (Gary Davies) (S)
Unison Kinneil (tba) (S)
F: First half draw
S: Second half draw
*denotes segment of draw bands will play in for each contest. Further information on the British Open can be found at www.thebritishopen.net