News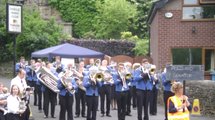 Published on March 27th, 2017
Better Times for Friezland Brass Band
Friezland Band are delighted to welcome a host of new players to their band. Over the past 6 months, the non-contesting band in Saddleworth have been rebuilding under their new MD, Max Stannard.
When Max took over in late September, the band had 14 players around the stand. Now they have 22 in size with a number of players rejoining the band or digging their instruments out after time away from banding.
Rejoining the band are Paula Mee and Kath Brookes on trombone. Also returning is a former conductor of the band, Phil Kerr, this time as the band's Solo Euphonium. Phil and Pam Meredith have joined the band on Solo Horn and cornet respectively and Les Meyrick has taken a seat on baritone.
The band are also looking to young talent, with three graduates of the Boarshurst Youth Band taking the step up to adult banding: Faith and Samantha on cornet and Luke on Baritone.
The band's new Musical Director, Max Stannard, told A4B: "It has been great working with the band and there is a great atmosphere in rehearsals, which has been bolstered by the new faces. We are keen to develop our repertoire and find exciting new opportunities, such as taking part in the Whit Friday Marches for the first time in several years."