News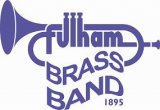 Published on April 6th, 2017
James Fountain To Set Stage Alight With Fulham Brass
The Royal Philharmonic principal trumpet player, James Fountain, will join Fulham Brass to perform Blaze, a concerto originally conceived for and dedicated to the great Rod Franks a number of years ago. The work was premiered by Richard Marshall in New Zealand in 2003 and was subsequently recorded by him with Grimethorpe Colliery.
Composer of the work, Phil Lawrence is delighted that James will be performing the work and told A4B: "This London premiere is indeed a special one. I don't think there's been a more difficult challenge for any trumpet player on a live stage ever in London: James will indeed walk the wire without the net, but the wheel barrows of bravura brought to the stage will be many!"
Fulham Brass conductor, John Ward commented on the band's excitement at sharing the stage with James Fountain, telling A4B: "We're so pleased that James accepted our invitation to perform with us. He is a fantastic player who has achieved so much. He is a great role model for any young player. Blaze is a fierce technical challenge, alongside some beautiful romantic movements. We can't wait to take on the challenge with James."
With the composer working in France on the day of the performance, the band is thrilled to announce that Paul Cosh, James' former teacher and the Phil Lawrence's Best Man will be introducing the soloist and music to the audience. Other music to be performed includes Royal Parks by George Lloyd (marking 35 years anniversary Hyde Park bombings), Gavin Higgins' Ivory Ghosts and Prelude on Tallis by Peter Graham.
More details can be found at http://www.fulhambrassband.co.uk/