News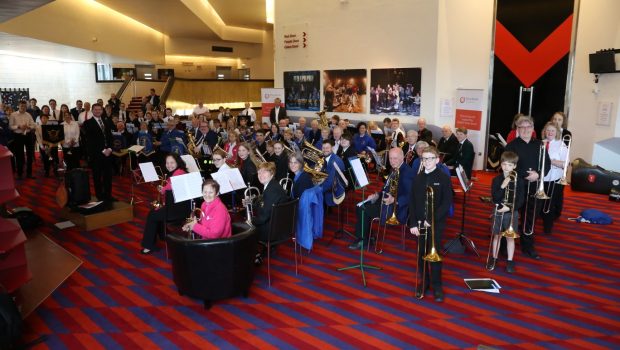 Published on May 15th, 2017
Sheffield Bands Wow The Masses
Sheffield's Tudor Square warmed to the sounds of brass on a cold Spring morning as hundreds of visitors to Sheffield city centre experienced the enthusiasm of 13 brass bands performing last Saturday at the invitation of Music in the Round.
In a feat of organisation and a feast of music, the 150 or so assembled musicians played 9 pieces together, soothing the crowd with pieces including the uplifting sound of Dvorak's Largo from the New World Symphony, Van McCoy's disco classic The Hustle, and in keeping with their host's Russia in the Round Festival theme, traditional piece Kalinka.
In a last-minute drama, the lead percussionist had fallen ill and despite a heroic effort from himself and band members across South Yorkshire, no drummers were available to step in. The percussion team who carried the event on the day, powering their sounds  across the square to provide a bedrock of rhythm for the huge band, was led by young learners Merlin and Emily from Stannington Training band, assisted by Loxley Silver's Alison and local brass tutor Rob Straw.
Brass Band England's Rachel Veitch-Straw facilitated the event and had high praise for the all bands and players involved. She told A4B: "We're really lucky to have 15 brass bands in Sheffield, and their leaders have put a huge amount of time and effort and money, making sure they had all the pieces, were practising ahead of the day and they gave up their time to be part of a joyous performance. Our compere and photographer, David Morris, and our MD, Gavin Somerset, both also donated their time to be part of this great community music-making morning."
Thousands of visitors to Sheffield city centre experienced the sounds and enthusiasm of the bands. Many bands are already asking for next year's Music in the Round's "Massed Brass" to be opened up to players from across the county, watch this space!