Sponsored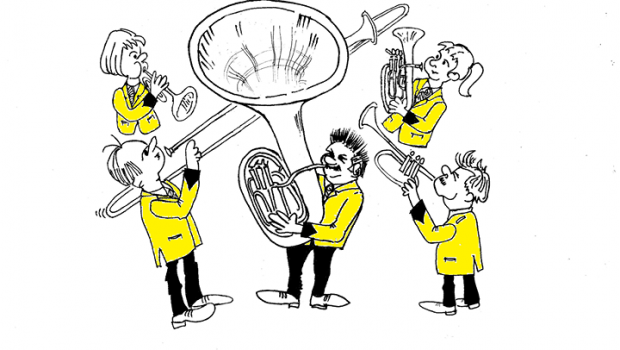 Published on May 17th, 2017
Pershore Prices Drop For Midsummer Festival
After the success of reduced price tickets at last year's event, tickets for this year's Pershore Midsummer Brass Festival will cost just £7.50 for a full 12 hour programme of music.
Pershore Midsummer Brass 2017 will take place in venues throughout Pershore on Saturday 1st July.  This popular annual event has attracted brass bands and visitors from throughout the Midlands.  And this year's line-up will once again see exceptional bands from Gloucestershire, Staffordshire, Coventry and play alongside Worcestershire's home grown talent in a non-competitive festival of music.
The event takes place during the whole day, starting at 10 in the morning with a fanfare from the top of the Abbey Tower, and ending at 10pm with performances in the grandeur of the Abbey and the fresh air of the Marquee at the Angel Inn, while through the day bands will also be performing in the informal Chapman Court and the intimate setting of Pershore Baptist Church.
Chairman of the organising committee for Pershore Midsummer Brass, John West, told A4B: "This price is hoped to encourage local residents who might be interested in seeing what the event is all about as well as visitors from further afield. We hope newcomers to the festival will enjoy it just as much as those who have come every year, and that together they will form a large crowd who warmly welcome and congratulate the bands.
Last year's reduced prices in tribute to the Queen's Jubilee, brought in many new visitors to this already popular event, and we hope to build on that success by once again offering reduced price tickets to everyone. These have been funded by a successful concert with Bretforton Silver Band and concert pianist Marcel Zidani. We would like to thank everyone who came to the November Concert, and to invite them all back to Pershore for the main event.
The bands playing on the day range from school groups to national competition winners, with players of all ages, brought together by their love of music. Bretforton Silver Band will return along with Bret Set and Go, and other local bands including Avonbank Brass Band (from Evesham) and Worcester Concert Brass. Malvern Chase Brass Band and Malvern Hills District Brass Band will play alongside Nunnery Wood High School Brass Band and Worcester City Youth & Trainings Bands, while West Mercia Police Band and their Youth Band will also make an appearance.
Meanwhile the visiting bands include The Staffordshire Band, Tongwynlais Temperance Band, Gloucestershire Police Band, City of Coventry Brass and Jaguar Land Rover Band.
And what music can you expect to hear on the day? This is a non-competitive event where anything goes. The bands choose their own programme. There are those who make excellent music to entertain as well as those who have enjoyed success in the highest competitions in the country and bring those amazing pieces to life in our little Worcestershire town.
The event takes place on Saturday 1st July, and runs from 10am to 10pm but visitors are welcome to come all day or pop in for just a few hours, to enjoy as much music as they like. Entrance is just £7.50 and tickets are available on the door on the day or in advance from BLUE, in Broad Street, Pershore.
More information on the event can be found on the website or social media: http://www.pershoremidsummerbrass.org.uk
Twitter: @Pershorebrass,
Facebook: PershoreAnnualMidsummerBrass