News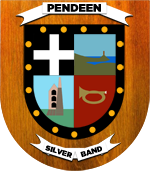 Published on May 31st, 2017
Pendeen Silver Prepare for 125th Anniversary Celebrations
Originally established in 1892 Pendeen Silver Band is celebrating its 125th Anniversary this year with a special celebration concert with free entry on Friday 16th June at 7:30pm in Cape Cornwall School, St. Just.
In the lead up to the concert the band will be working with the Swiss conductor and adjudicator Pascal Eicher. Pascal studied in modern languages and sports (1974) at university before leaving for England, where he could study brass band matters, mainly conducting and euphonium (1974-1975).
Visiting lots of rehearsals, he soon got fascinated by what he could experience. He had conducting lessons with the late John Harrison, and had the great luck to play for the Wingates Temperance Band, then conducted by John Harrison himself, and later Richard Evans. He had master classes with Geoffrey Brand, Roy Newsome and Major Peter Parkes. He improved his euphonium playing with Len Withington and Lyndon Baglin.
Pascal told A4B: "In 1999, I came to Penwith on holiday with my wife Elisabeth. I got a chance to play Bb Tuba with the Pendeen Silver Band on several occasions, and fell in love with the people and the area. Which means this June is going to be our 20th visit to Cornwall… and we are looking forward to it!"
Pascal will also be sharing the conducting at the concert with the Band's MD, Darren Jenkin, and will be leading the band in some new, and highly entertaining, music. Darren Jenkin told A4B: "It will be fantastic for the band to have the opportunity to work with Pascal again and his experience as an adjudicator and leading Brass Band Friborg to consecutive Swiss Championships. It will without doubt be a highly enjoyable concert."
In addition at the concert, the band will also be joined by local Soprano Hannah Pascoe, a soloist with Penzance Operatic Society and Duchy Operatic Society.