Contests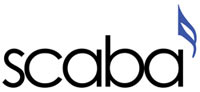 Published on May 31st, 2017
RESULTS: Scaba Entertainment Contest 2017
Scaba's annual Entertainment Contest took place at The Hawth on Sunday 21st May, with bands playing a great selection of music to an appreciative audience of their peers and adjudicators Glyn and Helen Williams on their first visit to a scaba event.
Glyn and Helen had a total of 100 points available to award each performance, with Glyn judging the bands' Musical Performance (max. 60 marks) and Helen casting her expert eye over their Content/Entertainment Value (max. 30 marks) and Presentation & Deportment (max. 10)
FULL RESULTS:
A Section
(1st & Championship section)
1. Otterbourne Brass, Melvin White. 91 points (56, 27, 8)**
2. Bedford Town, Steve Philips. 91 points (54, 28, 9)**
3. Sandhurst Silver, Andrew Porter. 86 points (51, 26, 9)
4. Tilbury, Ben Jones. 80 points (47, 26, 7)
– Horsham Borough – Withdrawn
Best Soloist: Nick West, Trombone, Otterbourne
Best Performed March: Otterbourne
Best Conductor: Melvin White, Otterbourne
Highest unplaced 1st Section band: Tilbury
Highest placed scaba member band: Otterbourne
B Section
(Youth, 3rd & 2nd Section)
1. Amersham, Paul Fisher. 92 points (54, 30, 10 – 2 time penalties)*
2. LGB Brass, Ian Stewart. 88 points (52, 27, 9)
3. Crystal Palace, Danny Wakefield. 78 points (44, 25,9)
4. St Sebastian Wokingham, Nigel Howard. 76 points (48, 21, 7)**
5. Brighton & Hove City Brass, Matthew Hackett. 76 points (46, 23, 7)**
6. Chichester City, Rom Stanko. 72 points (42, 22, 8)
– Hangleton Youth – played for adjudication only
Best Soloist: Jon Smith, Euphonium, LGB Brass
Best Trombone Section: LGB Brass
Best Compere/Conductor: Nigel Howard, St Sebastian Wokingham
*Bands exceeding the 24 minute time limited were penalised -1 point for each 30 seconds (or part thereof) over time.
**In the event of bands being awarded the same total points, the mark for Music is the tie-breaker
The Best Conductor in the A section was awarded a new trophy, the Kenneth Dennison Memorial Cup, donated by Andy Wooler in memory of former scaba President Ken Dennison who died last October.
During the B Section results ceremony, a special presentation was made to Colin and Sybil Morrison, stalwarts of the scaba Executive Committee and the London & Southern Counties regional team, honouring 50 years of service to brass banding.