News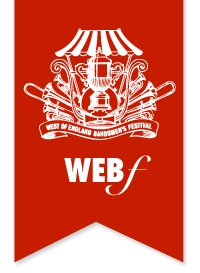 Published on June 5th, 2017
New Chairman For West of England's Bandsmen's Festival
The West of England Bandsmen's Festival has announced the appointment of Geraint Richards as their new Chairman. He succeeds Leonard Adams, who has stood down after ten years in the post. In recognising the commitment and support Leonard gave to the Festival during his term the Festival has elected him a Life Member.
Geraint has a unique connection to the Festival as his Great Grandfather, F J P Richards, was the prime mover in the founding of the Festival in 1912. He recalled, "Going to the Bank with 44 sovereigns in my pocket, each sovereign put up by committee and friends to ensure the Prize Money".
One of many long serving officials, he remained involved as Secretary and Promoter until his death in 1961. The first Festival was held in the grounds of Peniel on the outskirts of Bugle, a house which had been built by the Richards family and continued there until 1965.
In his position of Head Forester for the Duchy of Cornwall Geraint is involved in projects nationwide for HRH The Prince of Wales, Duke of Cornwall, who is Patron of The West of England Bandsmen's Festival and whose Great Uncle presented the unique Royal Trophy to the Festival in 1913.
Geraint's five children are all musical, continuing the Family's brass band tradition and appearing at the Festival in the Youth Section, his son Tremayne is at present a member of the St Austell Youth Band.
He is looking forward to taking up his appointment as Chairman at this year's Festival on Saturday June 17th, which will start at 10am with the traditional march through the village by the competing Bands to the Contest Field. As well as Bands from Cornwall and Devon and Brassband Excelsior Ferwert from the Netherlands, the Festival is also delighted to welcome visiting Bands from, Hampshire, Dorset and London.
Situated since 1912 in the heart of the Cornish China Clay Country at Molinnis Park in Bugle, there is ample parking in view of the Bandstand, as well as comfortable seating, which sets the scene for the audience to enjoy the attractive selection of Test Pieces, chosen not only to test the Musicians, but to provide entertainment for those listening.
With Trade Stands and the famous Tea Tent, a full day of entertainment, socialising and enjoyment is guaranteed. The March to the Field at Molinnis Park commences at 10am, with the Contest commencing at 11am.