News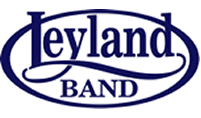 Published on June 23rd, 2017
Young Talent Make Leyland Debut
A trio of talented young cornetists made their Leyland debut in the band's recent performance at the Prescot Festival. Musical Director Thomas Wyss has welcomed James Nash (Soprano), Bethanie Moore (tutti cornet) and Sam Ball (Repiano) to the band.
James joins Leyland from the Freckleton Band, fresh from his performance in the BBC Radio 2 Young Brass Award final back in April. A multi-instrumentalist crossing both band and orchestral genres, James is star in the making. Bethanie has already packed a lot into her short playing career, including stints at Wingates and Hepworth bands, and joins us after a successful tenure as Principal Cornet of the Longridge Band. Sam studied cornet and trumpet at the famous Chetham's School of Music in Manchester, and progressed in a number of bands and becoming Assistant Principal Cornet of Wingates Band at the tender age of 15.
The band is delighted to continue successfully building after making the signings of Iain Fieldhouse, Dan Moore and Adrian Bird earlier in 2017. After a busy concert schedule, Leyland look forward to performing at the prestigious Innsbruck Promenade Festival later next month.
A spokesperson from Leyland Band told A4B: 'We would also like to record our thanks to Joe Martin who has been Leyland's Soprano Cornet for the last two years, but is now entering his final year at the Royal Northern College of Music and will focus on his trumpet studies'.