News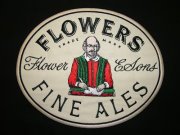 Published on August 7th, 2017
David Childs Takes MD Role at Flowers
In recent month's Flowers Band have enjoyed working with David Childs as guest conductor. The band are now delighted to announce the appointment of the international euphonium soloist as their Principal Conductor ahead of the British Open Championships next month.
In this new role David will make his conducting debut with Flowers at Symphony Hall on 9 September, and continue to work with the band on a regular basis, providing musical direction to the organisation beyond the British Open.
band spokesman, Tony Pemberton, told A4B: "During the brief period we have worked with David, the band has enjoyed fresh musical momentum and were keen to find a way for this to continue long-term. We recognise that as one of the world's leading brass soloists David's availability is limited, but we are extremely pleased he has accepted the position of Principal Conductor, and in this bespoke role we look forward to benefitting from his musical direction and working with him on a regular basis."
Speaking about his appointment, David told A4B: "It has been a pleasure to work with Flowers in recent months and I'm delighted to formalise an association with the band. Flowers have a nucleus of fine players, with a shared enthusiasm for making music, and a great camaraderie within the group. With some exciting plans already in place, I look forward to the future, which will initially include developing associations with other conductors, composers and players to benefit the Flowers organisation.
In the short-term I'm excited to be leading the band at the British Open – it's probably the world's most prestigious brass band contest, and in Thierry Deleruyelle's Fraternity, I feel we have one of the best original brass band works of the modern era to perform."