News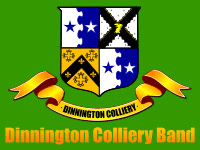 Published on September 7th, 2017
Dinnington Reach Izzy Heights With New Signings
Dinnington band are delighted to announce Izzy Faulkner as their newly appointed Principal cornet.
Izzy, a 20 year old medical student at Sheffield University, has helped the band out a few times this year and was keen to express her interest in the principal seat when she learned of the vacancy.
Originally from Rochdale, Izzy has been playing with local Loxley Silver band who she has thoroughly enjoyed her time with, but felt the time was right to challenge herself by taking on the principal chair in a band with a rich history such as Dinnington.
The band have also welcomed local BBb bass player John Cook to the band. John, a former musician with the Royal Engineers Band and a previous member of Yorkshire Main Colliery Band has returned after a 12 year break from playing.
The Band's MD, Lindon Bolt, told A4B: "Both players are a huge asset to the band. John is a fantastic musician and in only a couple of rehearsals has made a real mark in the band room (I don't believe he hasn't played for 12 years!) and Izzy is a very talented and stylish young cornet player who has a lovely sound and bags of enthusiasm. She is a great example for the many young players we have in the band at present to look up to. I am really looking forward to a bright future with these new players in the ranks"
Other changes also see the return of Sally Brookes to the soprano cornet seat with Mark Littlewood moving back to Bb cornet to further strengthen the section with Andy Clarkson returning to the back row after a short sabbatical.
These changes come at an ideal time as the band prepare for contests in the run up to Christmas as well as a busy start to 2018 including a tour to Holland in May/June.