News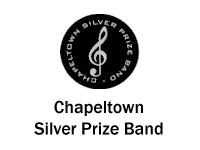 Published on September 16th, 2017
Chapeltown Announce Sam Fisher as New MD
The Chapeltown Band are delighted to announce the appointment of Sam Fisher as Musical Director.
The band have been actively searching for an MD following the announcement that Andrew Dennis was to retire from Banding to concentrate on his business ventures.
A spokesperson for the band told A4B: 'The band received a lot of applications from some very experienced and talented candidates. After auditioning 3 of the applicants, the band was impressed with Sam's musical knowledge, drive and ambition and feel that he will challenge the band musically. The band is really looking forward to working with Sam and towards a very successful partnership.'
Sam is an experienced brass tutor and music teacher in the Wakefield area, and has a wealth of experience both as a player, with bands such as Brighouse & Rastrick, Grimethorpe Colliery and Carlton Main Frickley , and also as Musical Director of the West Yorkshire Police Band and more recently has enjoyed a successful partnership with Old Silkstone band.
Sam's first official rehearsal will be on Friday 22nd September and his concert debut with the band will be at their Autumn Concert in October.