News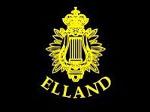 Published on October 3rd, 2017
Community Award for Elland Silver
Elland Silver Band have picked up another accolade at the Calderdale Community Foundation's annual Community Spirit Awards.
The band were nominated for an award in the Arts and Culture category in recognition for the development of their youth band and success at this year's European Youth Championships. Several members of the youth band along with Musical Director, Samantha Harrison and Band Secretary, Kathleen Harrison attended a presentation dinner at the Venue, Bowers Mill last Thursday.
The band were shortlisted against many local arts charities including the new multimillion pound "Piece Hall" and "Square Chapel".
Speaking about the event, young tuba player, Zach Schofield-Lea told A4B: "It was like being at the Oscars, we certainly didn't expect to be chosen winners,"
The band Secretary, Kathleen Harrison, told A4B: "Its really wonderful to receive such recognition for our work as a charity and the impact we make on young people. It's really great for community organisations to be recognised and thanked for our hard work."