News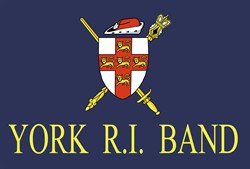 Published on October 10th, 2017
Re-Building of York Railway Band
Following an intensive period of rebuilding the playing strength of York RI since the Regional Contest the band is pleased to announce the appointment of a number of new players.
12 months ago, and through no fault of their own, the York RI Band found themselves in the unenviable position of having 17 current or pending vacancies and were also without a Musical Director. However, in December 2016, the band made the inspired appointment of Dr David Lancaster as their new MD and immediately set about the task of rebuilding the band.
The first objective was to bring together sufficient players to attend the Regional Contest where help was forthcoming from numerous people. This help included the cornet legend Graham Walker who offered his services to allow the band to attend the contest and to keep one of his former bands going.
The band are delighted to welcome back Principal Cornet Ollie Abbey who has just completed his studies at Cambridge University and started work in the local area. Ollie is well known in the area as a terrific player and he's already making a huge impact on the standard of the cornet section. Bringing quality to the Flugel Horn position is Carolyn Ramsbottom, formerly of Yorkshire Co-op and Hepworth bands.
The hugely experienced and highly regarded 1st Horn Player Liz Rochester has also returned to the band after many years dedicated service for the Kirkybmoorside, Harrogate and Rowntrees bands. The bass section of RI has been bolstered by the arrival of Dan Lancaster formerly of Wetherby Silver and currently a member of the NYBBGB.
Finally, the band is particularly pleased to welcome the young rising trombone star Peter Fewster into its ranks. Recruitment continues and the band hopes to make more key appointments in the very near future.
Musical Director, David Lancaster told A4B: "In recent months the band has taken huge steps forward and is now starting to show considerable promise for the future. There are lots of exciting challenges ahead of us but I am confident that the band will be ready and prepared to meet them".