Article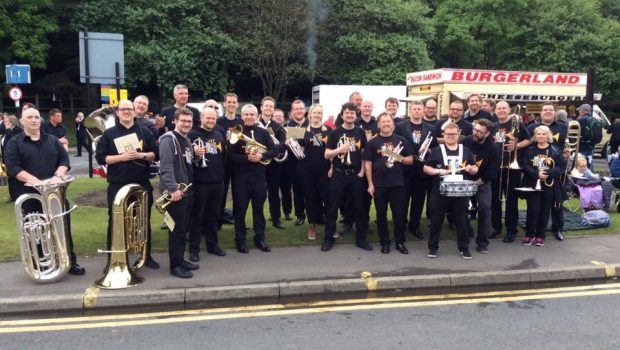 Published on October 17th, 2017
ARTICLE: Bad Ass Brass for Charity
Bad Ass Brass, the Whit Friday scratch band whose popular street 'march-downs' have seen videos of the same go viral online, have revealed that nearly all their prize money from 2017 went to charitable musical causes.
Over the last two years the band has won over £800, most of which has been donated to youth bands, community bands with beginner groups, music therapy charities, the National Youth Brass Band, and the National Youth Children's Band.
Many of the band are busy professional players or teachers and the rest are brass band musicians either unassigned or in bands that don't participate in the event. A sizeable majority are also NYBB alumni.
2017 was the band's most successful year out of the four they've done so far, managing top-three finishes at Delph and Uppermill, and a seventh place overall for the night in Saddleworth.
Jim Lynch, himself a pro trumpet player and long-time member of the John Wilson Orchestra and who is currently in the pit at 42nd Street in London's West End, told A4B: "It's Not bad from 40 minutes rehearsal in an outdoor car park!. We've been able to assemble a terrific band each year and I'm grateful – as well as delighted – that the quality has been so high."
We started in 2014 with a core team from the eight-piece jazz group Bad Ass Brass, some volunteers from Zone One Brass and then built the band around that with the best players we could find all over the country. We didn't actually manage a full team in our first year – there were no baritones for one thing –  but since then we've got the full 25+2 each time."
The band have had some pretty impressive players through their ranks over the last four years including session trumpet players Andy Greenwood and Danny Marsden, fellow John Wilson Orchestra member Jon Stokes on trombone alongside Phil Judge who is at American in Paris.
There's been a handful of professional players with top-flight banding experience such as Ben Godfrey (cornet), Scot Bennett (horn), David Nesbitt (tuba) and Mark Frost (bass trombone) turning out. This year's band included Martin Britt (Grimethorpe) on sop with Jonti Smith (ex-Fairey's) with ex-Dyke principal trombonist Chris Binns on euphs alongside ex-Fairey's bass trombone Josh Cirtina. In 2016 they even managed to recruit star euphonium soloist Gary Curtin.
They've played a different piece each year for march-down. First time out (2014) was a Jon Stokes arrangement of 'Blueberry Hill' followed by Lynch's transcriptions of 'The Carioca' (2015) and 'Well Git It' (2016). 2017 had a brand new original composition from Jon Stokes entitled 'Whit Bit' which many commented was the best yet.
One of the highlights for the band this year was hearing Lee Rigg's Wardle Junior Blast perform. "That was the moment when the importance of musical education became so obvious to us." says tuba player and Wardle alumnus Mike Poyser. "Then, when the cash prizes came in, donating it to those organisations was really a no-brainer. We did an online vote and it was unanimous to donate the prize money."
In Lynch's show, 42nd Street, there's a famous line from impresario Julian Marsh where he yells to some of his dancers, practicing outdoors, "And just what the hell do you think you're doing? Here I am knocking my brains out to put on a show they'll pay good money to see, and you're giving it away free on the street!"
That's sort of what the members of Bad Ass Brass have been up to, really. A night off from shows or gigs, in order to literally give their services away for free on the street.
Do the musicians plan to return in 2018? Just try stopping them!