Contests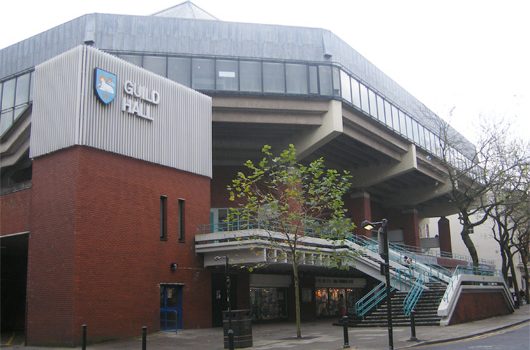 Published on October 31st, 2017
Brass At The Guild Judges Announced
The organisers of the 2018 Brass at the Guild which will take place on Sunday 28th January are delighted to announce the adjudication panel who will oversee the five sections. Paul Andrews, John Doyle, Chris King, Helen Varley and Thomas Wyss will make the all important decisions.
Bands are reminded that entries are now welcome for the competitions which also incorporates the British Open Youth contest. Supported by R. Banks & Son (Funerals Ltd) through its proprietor and life-long brass band supporter Brian Halliwell, it is regarded as one of the most important early season events in the UK brass band calendar.
The five senior sections as well as the exciting British Open Youth Championship will take place at Preston's Guild Hall on Sunday 28th January. The closing date for both events is 2nd January 2018.
Competing bands in the senior sections will once again be given the choice of which set-work they wish to play — with the opportunity to showcase either those chosen for the 2018 Butlins Mineworkers Championships or Regional Championships.
A spokesperson for the event told A4B: 'The ethos of Brass at the Guild is to help promote and encourage competition by giving both senior and youth bands the opportunity to showcase pieces they have already, or are currently working on. As a further competitive incentive, the appropriate highest placed band in the Championship Section will gain an invitation to compete at the 2018 Senior Trophy at the British Open Spring Festival in Blackpool.'
With its generous prize fund (podium awards of £400, £200 and £150 in all sections), and excellent facilities, the event continues to attract a fine line up of competitors. Those who wish to take part must advise the contest administrator by the entry closing date their choice of work.
One of the most popular attractions of the day is the hosting of the British Open Youth Championship, which will take place in the Charter Theatre. Once again the organisers are delighted that the prestigious British Open title is on offer through the kind permission of Karyn and Martin Mortimer."
The format of the youth competition is a 20-minute own-choice entertainment programme.
Test Pieces Choices:-
Championship Section:
Odyssey (Kevin Norbury)
Contest Music (Wilfred Heaton)
The Year of the Dragon (Philip Sparke)
Concerto No 1 for Brass Band (Marcus Venables)
First Section:
Brass Metamorphosis (James Curnow)
Renaissance (Peter Graham)
Second Section:
Ex Terra Lucem (Jonathan Bates)
Variations for Brass Band (Ralph Vaughan Williams)
Third Section:
Napoleon on the Alps (Philip Harper)
Overture to Henry V (Ralph Vaughan Williams).
Fourth Section:
World Tour (Rodney Newton)
Second Suite in F (Gustav Holst)
British Open Youth Championship:
A 20-minute own choice programme
Schedules and entry forms can be down loaded from www.lancashirecontests.com