News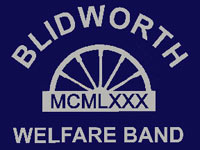 Published on November 8th, 2017
New Arrivals & New MD At Blidworth Welfare Band
The Blidworth Welfare Band are very pleased to announce the appointment of Simon Oates as their new Musical Director.
Simon has achieved great successes as a Soprano cornet player with Foss Dyke, Thoresby Colliery and Jaguar Land Rover Bands. He has also previously conducted Foss Dyke Band, leading them to 2nd place at the 'Area' contest in 2015 and promotion to the second section in 2016. Simon is also currently the associate conductor with Enderby Band.
In addition to Simon joining the Blidworth Band, the band are also pleased to announce the return to the band of two previous players. Dawn Evans returns on 1st Baritone and after a slightly longer break away, Pete Thornburn returns on Solo Trombone.
A spokesperson for the band told A4B: 'We are looking forward to working with them as well as Simon as we work towards Leicester Contest, the Area competition, and beyond!'