News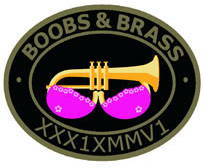 Published on January 3rd, 2018
Boobs & Brass Ready to Begin Farewells With Brighouse
When Boobs & Brass was conceived in 2006, nobody would have imagined what the next eleven years would bring; so many wonderful moments that would never happen in 'normal banding'.  But what some folk say has been a phenomenon, is soon to start it's final year and who better as partners to share this with, than current National Champions, Brighouse & Rastrick Band, at their next Massed Bands in March.
Co-founders of Boobs & Brass, Maggie & Jane, told A4B: 'A couple of the events, over the years, stand out in our minds and were so very special. Our first visit to the Whit Friday Marches in 2007 was brilliant, but we did not anticipate our appearance would cause such a stir with reporters running after us with cameras, keen to know more about us.  Forty pink clad ladies marching down that famous street to 'All the Nice Girls Love a Sailor' led by the local Vicar – and with the crowd erupting into cheers – amazing!
At one of the villages we were awarded a special prize, so two of our 'Boob Crew', Glenis and Cheryl, attended the awards night to proudly receive a cheque for our charity.  Also there that night were players representing 'Brighouse & Rastrick' who spoke very kindly of what our band were doing for charity, but as an 'all male' band at that time, Prostrate Cancer cropped up!
As a joke, Glenis suggested they invite us to do a 'Boobs & Balls' event and despite the hilarity, the Briggy boys actually thought it would be a good idea. They suggested we wrote to the B&R Committee which we did, never in a million years thinking they would take it seriously – but they did. Boobs & Brass were invited to share the stage with them at Huddersfield, ultimately proving to be the start of a very special relationship between these two unique bands!
Prior to that first concert, at Huddersfield Town Hall, the girls were certainly 'counting the sleeps' with Jane and I worrying about one thing or another, but on the day the nerves were calmed by such a warm welcome and we had the most wonderful night in October 2008.
Since then, we have done three further concerts together with this class act and are more than grateful for this last chance to perform with 'Brighouse' before we hang up those pink jackets later in the year.'
on the 24th March, the Boobs and Brass team will excitedly travel to say goodbye to Yorkshire – and we are sure again it will be absolutely wonderful.
Ticket enquiries by email: [email protected], Tel: 01484 718835 or on-line at www.kirkleestownhalls.co.uk following Events, Tickets, Huddersfield links.