News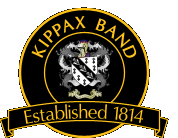 Published on January 3rd, 2018
Kippax Adds New Players to the Ranks
Kippax Band have brought in a few new faces over the Christmas period ready for the contesting year ahead.
Joining the band from Harrogate is the experienced player, Anthony Malone on Solo Euphonium who replaces Lee Fairburn. Lee leaves the band after 30 years of service to spend more time with his family.
Also joining from the Lindley Band are Paul Harris and Joanna Wood on 2nd Cornet and percussion respectively. To complete the new faces within the band is Alfie Southernwood also joins the percussion team at Kippax.
Commenting on the arrivals, a spokesperson for the band told A4B: "Its sad to see Lee leaving after all the years of service he has given, but he is not going to be a stranger and one day, he maybe back! However, it is great to welcome Anthony who has been a friend of the band for several years and jumped at the chance of taking up the challenge. We are also pleased to welcome Paul, Joanna and Alfie who have really impressed the band already with their commitment and work rate".