News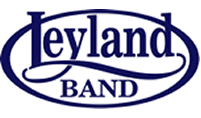 Published on January 26th, 2018
Euphonium Star Leaves Leyland
Due to work relocation, Leyland Band bid farewell to their Principal Euphonium James McLeod after five years of service.
The move, which will see James relocate to Chelmsford, will mean that Leyland's invitation to Aberystwyth's Brass Extravaganza on 27th January will be his final performance with the band.
Providing outstanding service to the band, James featured regularly as a soloist in concerts and became a firm favourite amongst local audiences, having won Patrons' Player of the Year on the last two occasions. James produced countless flawless contest performances in his time, and his technical wizardry astounded followers of the band on a number of CD recordings.
On his departure, James told A4B: 'I have thoroughly enjoyed my five years at Leyland. I'd like to thank the band for their support throughout my tenure, and I am looking forward to new and different challenges with my playing in the south.'
A spokesperson from Leyland Band told A4B: 'It will be difficult to replace a player of James' ability and commitment. He is an example to players around the stands, and we wish him all the very best in his new job.'
Leyland will look to appoint a permanent replacement after the North West Regional Qualifiers.