News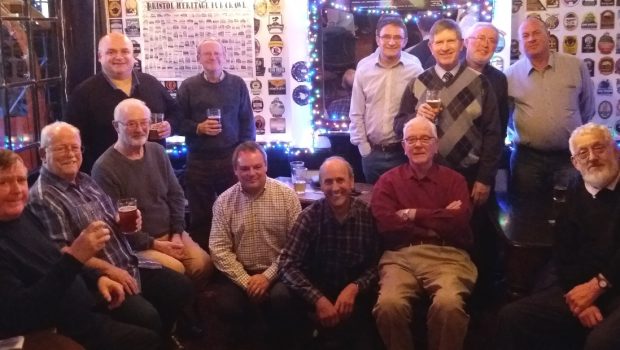 Published on January 29th, 2018
Sun Life Memories of Past Decades
It is over two decades since Sun Life Stanshawe Band closed its bandroom doors in Eastville for the last time and was no more.
Time is marching on, but memories of those special banding years leading up to its demise remain vivid in the minds of all its former members.
On Thursday, 25th January 2018, a ragtag group of aging brass musicians met in a pub in a quiet back-street of Bristol.
The Stanshawe were re-united! – if only for a few hours. Not since 2010 have these best of friends been together in such numbers.
Some of those attending had travelled over 100 miles to be at this ad-hoc event.
It was like they had never been apart. Conversations were aplenty, waves of laughter, and stories told of the highs and the lows of the age of Stanshawe.
It was not all merriment as at 4.55pm the pub's large maritime bell was rung. This was a calling notice to remember all those friends that are no-longer with us.
Their names were read out by Dave Alderman (player and band trustee) and glasses were raised in their memory:
Players Remembered
George Johns, Glan Narbeth, John Aldrich, Fred Davies, Trevor Green, Gerry Davies, Denis Brown, Stan Brown, Bill Parslow, Haydn Harris, Dave Fisher, Jim Scott, Howard Thomas, Bert Philp, Nick Chivers, Ray Hunt, Shaun Thomas,
Ken Haggett, Terry O'Brien, Alan Exley, John Peake, Mike Tilley, Mike Woods, and of course Brian Higgins who's vision paved the way in the formation of the band in 1968.
Conductors Remembered
E.S. Brown, Walter B. Hargreaves, Laurie Hinchley, James Watson, Roy Newsome and Derek Bourgeois.
But such events must come to end. Hand-shakes, hugs, and final good-byes before these old banding warriors parted.
This may not be the last time these special players will meet, but time does not stop, and such opportunities will, for certain, become fewer and fewer.