News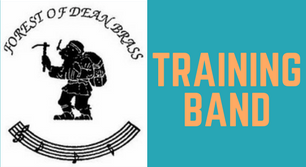 Published on February 27th, 2018
New Seedlings Sprouting at the Forest of Dean Training Band
The recently formed Forest of Dean Brass Training Band are enjoying preparing for their first ever public performance which will take place on Saturday 17th March 2018 at the Onward Hall, Bailey Hill, Yorkley.
The band will be performing before and after Wlydwood Art's production of Passing the Baton, a play created and written by playwright Mike Akers based on the memories of Robert Morgan MBE of the Lydbrook Band.
Training Band coordinator Kristyann Symonds told A4B: "The Training Band are really looking forward to this, it's the final day of the Six Nations Rugby Championship too, with England taking on Ireland, on St. Patrick's Day at Twickenham in what could be the Championship decider.  It's seemed only fitting that our programme should be a six nations theme so we have music from England, Ireland, Wales, Scotland, France and of course Italy.  The play is great, very funny and superbly acted so it should be a fantastic event.  What's more, entry is free!  If you want to reserve a seat you can contact Sharon Stratford on 01594 564920.
We are really happy with the way the Training Band is developing but we would love to welcome more new players of all ages and abilities. It doesn't matter if you have never played before as there is a "new starter" session from 6.30pm  where you can learn right from the very start.  If you are a little more advanced then you may prefer the "developing players" session which takes place from 7.15pm.  Instruments can be supplied so don't worry if you don't have one – there are even have plastic instruments for very young players."
The band meets weekly on a Tuesday evening and each session is prepared by fully qualified teachers and delivered by teachers and senior members of the Forest of Dean Brass Band (1st section).  You can find them in action on Tuesday evenings from 6.30pm to 7.55pm at The Onward Hall, Stag Hill, Yorkley, Glos, GL15 4TD.
To find out more, call on 07990 542614 or visit their brand new website  www.forestbrasstrainingband.co.uk