News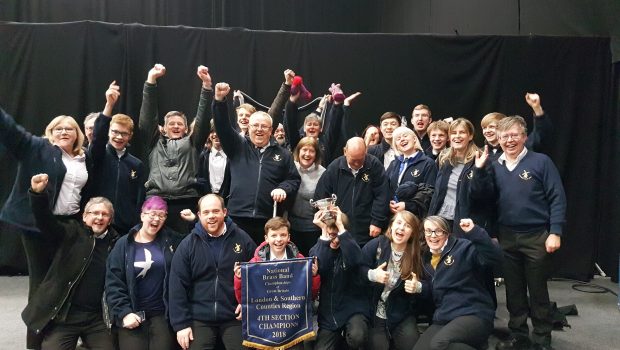 Published on March 26th, 2018
Milton Keynes Duo Enjoy Regionals Success
Milton Keynes Brass and Bradwell Silver Band both achieved success at the London and Southern Counties Area Brass Band Championships on Sunday 18th March.
Milton Keynes Brass were awarded third prize in a large field of 18 bands in the second section. Playing Ex Terra Lucem, by Jonathan Bates, the band gave a great performance featuring solos for Matt Ball (cornet) and George Bruce (euphonium). As a result, the band have now been promoted to the first section and will play at the National Finals in Cheltenham in September.
Jonathan Mott, MD of Milton Keynes Brass, told A4B: "The band has worked very hard and maintained consistently good results over the last 12 months resulting in an appearance at the National finals and promotion. 12 months ago we had a plan to achieve this and it's nice to see this coming to fruition. "
Bradwell Silver travelled home with the gold after securing first place in a fourth section of 18 bands and an invite to the National finals.  This is a record breaking result for the band as it will be the first time in a 117 year history they have qualified for the National Finals.  The first place also means the band have gained promotion to the third section in 2019.  The local band is dedicated to teaching and developing the brass players of the future.  Within the winning band 19 players were taught and started their careers within Bradwell Development Band and 8 players on the day were aged 18 or under.
Bradwell Silver Musical Director, Brian Keech told A4B: "I am so proud of the Bradwell Silver Band members for this fantastic win. With the majority of the band taught through our Development group this is a tribute to all the tutors. With the National finals and other exciting events in 2018, including a WW1 commemoration concert at Stantonbury Theatre in November, the band has a wonderful year to look forward to."
Having two bands in the National Finals is a first for Milton Keynes. In difficult times for music and the arts this is a great success story for the new city. There are seven Brass Bands in and around MK with long traditions of promoting community music making and supporting young people in learning brass instruments.