News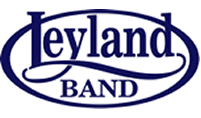 Published on March 27th, 2018
Leyland's Carter Receives Patron Award
Legendary Tuba star, Bill Carter, was the recipient of the Patrons' Player of the Year award at Leyland Band's recent matinee concert at Chorley Town Hall.
Bill joined Leyland in 1987 and has variously occupied all four seats in the tuba section since then. After a number of years as Principal Tuba, Bill moved to Principal Bb Bass and has won everything from the British Open to the National Championships of Great Britain with the band.
Over the course of the year, Bill has performed a number of solos with the band and has built up a reputation for making the audience laugh with his humourous items, which are always a highlight of the programme. However, Bill was keen to show the audience his technical flair this time by performing Bombastoso by H A VanderCook. His efforts were rewarded when the crowd of patrons swung the majority vote in favour of Bill, who was presented the trophy by Chris Doran, Chairman.
Fighting off tough opposition on the day, Bill had competition from Principal Cornet Iain Culross who performed a beautiful rendition of Rusalka's Song To The Moon, and James Nash who delivered a passionate performance of On With The Motley.
A spokesperson from Leyland Band told A4B: 'It is wonderful to have a character like Bill in the band. His wealth of musical experience is second to none, and he is such a positive influence in terms of band morale. We are all pleased that his contribution to the band has been formally recognised, but more importantly we are glad it will give him something else to talk about other than when Wigan Athletic won the FA Cup!'