News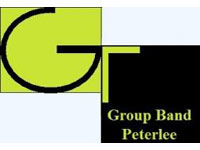 Published on April 16th, 2018
Simon Kerwin Appointed MD For GT Group Peterlee
The GT Group Peterlee Band is delighted to announce the appointment of its new Professional Musical Director, Simon Kerwin.
The band has appointed Simon following a handful of highly successful rehearsals prior to the North of England Regional Brass Band Championships. His professional approach and relaxed manner instantly clicked with the band and now plans are in place to work on some future events and projects whilst developing the band further technically and musically.
A well-known name in the brass band movement having worked with bands around the world as well as being a highly successful composer and arranger, Simon is currently the Bandmaster of one of the most respected Military Bands, The Nottinghamshire Band of the Royal Engineers, which he has directed and developed since its inception in 2007.
Simon told A4B: "I'm delighted to be working with the band. It offers a great opportunity to work with this lovely team of people but in a way that fits with my busy professional schedule both with the Military, composing and arranging and our successful events business, Mode for…Events. Peterlee Band offers a great opportunity for musical development and some enjoyable performances too."