News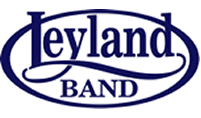 Published on April 25th, 2018
New Trio Arrived at Leyland
After a successful start to 2018 by qualifying for the National Finals once again, Leyland Band attracts a trio of new signings.
Steve Ridler (Horn), Ryan Broad (Solo Cornet) and Ellen Sides (Percussion) all join the North West band, with Steve and Ryan having had previous spells at Leyland.
Steve first joined Leyland as Principal Cornet under Richard Evans in the 80s, and went on to play with JSVB, Brighouse and Rastrick and Brisbane Excelsior. Since returning to the UK in 2014, Steve has been registered with Fodens, Wingates and Hepworth, but is delighted to return to Leyland.
After helping Leyland to secure qualification in February, Ryan has committed his services once again as he joins the Solo Cornet rank. Ryan played with Leyland for a number of years before taking a break to complete his degree level studies, but now reunites with old friends.
Currently studying Popular Music and Recording at the University of Salford, Ellen is the latest Leyland addition and completes the Percussion section. Whilst at university, Ellen plays with the Salford University Brass Band, which builds on her previous band experience at Wingates.
Leyland Musical Director, Thomas Wyss, told A4B: 'It is great to welcome Steve, Ryan and Ellen to Leyland Band, who between them bring lots of experience and musical quality. After a positive contest result at the Regionals, I am delighted with the way in which the band is strengthening as we look towards the British Open and National Finals'.