News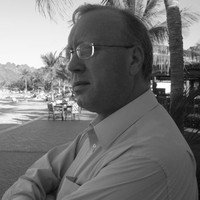 Published on June 4th, 2018
Death of Darrol Barry Announced
It is with great sadness that we announce the untimely passing Darrol Barry, who died on 3rd June 2018 in The Sultan Qaboos University Hospital, Muscat, Oman.
Born in Salford in 1956, Darrol, aged 14 joined the School Brass Band on Eb Bass, a surprise to him as he'd wanted a Cornet, even more of a one for his parents.
It was during this time that he showed an interest in arranging for the Band and was encouraged by the conductor of Windsor Band at the time, Jack Clayton.
Upon leaving school, Darrol became an apprentice joiner and continued arranging for Band and teaching himself harmony and counterpoint.
Darrol would go on to study at Salford with Roy Newsome, Goff Richards and Geoff Whitham. After completing the L.T.C.L in Band Musicianship at Salford, Darrol went to the Royal College of Music, London, to study with Joseph Horowitz and successfully completed his Certificate in Advanced Study in Musical Composition.
Darrol became a freelance composer and arranger working for some of the major publishing houses like Studio Music, Wright & Round, Bernaerts Music and Obrasso. He also taught on the degree courses at Salford University, Barnsley College and Accrington & Rossendale College.
In 2002 Darrol took up the position of Composer and Arranger in Residence for The Royal Guard
of Oman. A job of great variety writing for Military Band including Bagpipes one minute then
Symphony Orchestra or even Fanfare Trumpets.
Darrol had a dry sense of humour and always had time for anyone who came up to speak to him, but it is his music that he rightly will be remembered for. It has touched so many people not only in the UK but across the world.
He will be sadly missed by all who knew him and had the good fortune to be in his company. Darrol's wife Rachael would like to thank everyone for the good wishes they have received from around the world whilst he has been ill and also on his passing. The family are incredibly humbled by the love shown for him.
Details of his funeral will be announced in due course