News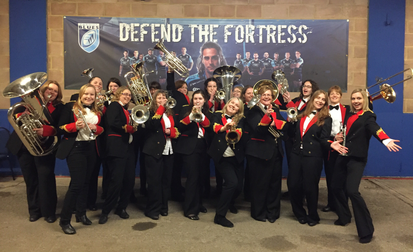 Published on June 4th, 2018
Female Banders Called to Celebrate Women's Vote
On Sunday June 10th, an all-female band under the banner of Symphonic Brass Wales will feature in "Processions", one of the largest participatory artworks ever created.
Produced by Artichoke and commissioned by 14-18 NOW (the UK's arts programme for the First World War centenary) Processions will commemorate 100 years since the first women in the UK won the vote.
On Sunday 10th June 2018, thousands of women and girls will form four epic processions in the four political capitals of the UK – Belfast, Cardiff, Edinburgh and London. Given green, white or violet to wear, the colours of the suffrage movement whose initials stood for "Give Women Votes", they will together create waves of colour as they celebrate the centenary of women's suffrage.
Following the success of the all-female band that Symphonic Brass Wales brought together for the Womens Rugby Six Nations International matches in 2016, the band have been asked to perform for the beginning and close of the Processions event in Cardiff city centre.
The band will perform from two static positions, under the baton of Crwbin Band's Jacquie Scaife, to open and close the event. The locations are Cardiff City Stadium and Cardiff Castle.
All performers will gather at Cardiff City Football Stadium from 12:00 noon for a briefing and uniform issue, ahead of a 14:00 start to the event. Following the opening fanfare, the Procession itself will set off along the route. This will take approximately one hour, during which time SBW will relocate to Bute Park ready to greet the Procession with a second short performance on arrival at Cardiff Castle.
A spokesperson or the band told A4B: 'Processions will be covered by the BBC and will be a living portrait of women and girls in the 21st century. Capturing the spirit of the moment, it will commemorate the past, celebrate the present and look to the future. As women continue to win more power and opportunity in contemporary society, join us in putting women centre-stage in a joyful, inclusive celebration that will be remembered for years to come.'
The call is open to female brass & percussion musicians from across Wales and beyond to be part of the band for the event. Interested parties should visit www.symphonicbrasswales.com or contact the band via email at [email protected]