News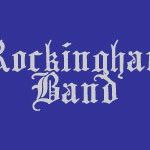 Published on June 21st, 2018
Rockingham Band Announce New Principal
Rockingham Band are proud and excited to announce that Andrew Abele has joined the hard working team to lead the cornet section from the principal chair.
Andy joins the band with a wealth of experience in the banding world. Having played principal cornet for the Snibston and Desford band and 2nd man for Thoresby Colliery, Andy is well versed in upper section banding from these two midlands championship section bands. Andy's most recent position was 2nd man at the Unite the Union brass band in the Yorkshire region championship section.
Besides a strong resume of banding, Andy also received a BA degree in band studies from the university of Sheffield, studying under Major Peter Parkes and David Hirst. Putting his degree to good use, Andy went on to become a peripatetic music teacher in the Lincolnshire area and later the head of music for the Gedling school in Nottinghamshire.
The band's MD, Adam Whittle told A4B: 'Myself and the band are thrilled to welcome Andy to the fold. His experience and ability are something we hope to draw from as we move forward. He has shown his excitement and enthusiasm to be part of the team and that is brilliant to see! I look forward to many successful years to come!'