News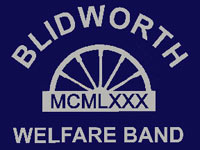 Published on July 16th, 2018
Blidworth Commemorate RAF Centenary
Blidworth Welfare Band's Assistant Principal Cornet, Stephen Bennett, led the ceremonial fanfare trumpets of the Royal Air Force at a Service to mark the Centenary of the Royal Air Force on Tuesday 10th July 2018.
Commenting on the event, Steve told A4B "It was an amazing experience and was a good example of how brass instruments do not need to be played loud to be effective. It's more about the style and musicality for which Royal Air Force Music Services are known for".
Throughout various concerts this year, Blidworth Welfare Band has payed tribute to the RAF Centenary year by performing The Dambusters March.
Looking Forward
In April 2019, Blidworth Welfare Band will be joining up with Argent Theatre Company and taking the part of Grimley Colliery Band in a stage production of Brassed Off in Newark-upon-Trent opening for three nights and one matinee performance.
Whilst Grimethorpe had a great deal of synergy with the fictional Grimley Colliery Band, Blidworth Welfare Band do too as their pit closed in 1989, four years prior to Grimethorpe Colliery.
Musical Director, Simon Oates told A4B "We are delighted to have been asked to provide the music for this production as it is a great way to mark the 30th anniversary of the closure of Blidworth Colliery and pay tribute to the adversity that our community had to endure. Whilst we'll be playing the part of Grimley Colliery, our players will be playing with passion and pride with Blidworth in their hearts".