News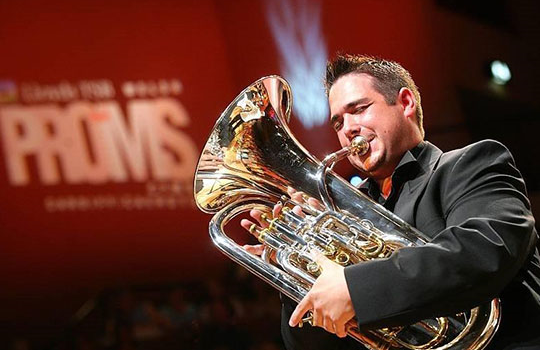 Published on July 20th, 2018
11th Hour Call Up Sees David Childs Proms Performance
International euphonium soloist David Childs is to make a double Proms appearance this week as an 11th hour call up sees him feature at both the Welsh and BBC Proms.
On Saturday night, the Welsh Proms will open at the national concert hall of Wales, St David's Hall, Cardiff with Owain Arwel Hughes CBE leading the Welsh National Opera Orchestra, together with star vocalist Shân Cothi, in a performance of Sir Karl Jenkins' epic masterpiece, The Armed Man – A Mass for Peace.
The central feature of the work is the hauntingly beautiful Benedictus which usually features solo cello, however this Saturday's performance of Benedictus will now feature the mellifluous sonority of the euphonium, following the 11th hour addition to the cast of Welsh Proms favourite, the international star soloist David Childs.
Proms Artistic Director, Owain Arwel Hughes CBE told A4B: "We wanted to do something special to mark the centenary of the end of the First World War this year, and immediately The Armed Man, Karl's iconic Mass For Peace, was it. Karl and I spoke at length on how we could make this performance with WNO truly special. Shân was the first step, together with the addition of a Muezzin from the local Syrian community, who will perform the second movement, the Adhaan, or Call to Prayer. Then, just this week, news arrived that the WNO principal cellist had unfortunately suffered a shoulder injury and would be unable to perform, and so the opportunity arose to feature another soloist.
Having performed the Benedictus with him on several occasions in the past, including at the Llangollen International Eisteddfod last year, I immediately thought of David Childs, and am delighted that he was able to accept my invitation to join us for what will be a very special performance indeed on Saturday."
Childs is a familiar face to Welsh Proms audiences, having performed at the event on six occasions previously, which include three world premiere concerto performances. David's appearance at the Welsh Proms comes just one week after his performance at the BBC Proms with the BBC Concert Orchestra, and fresh from a concerto premiere in Tokyo, Japan and recent recording at Abbey Road Studios with Sir Bryn Terfel for his new Deutsche Gramophone CD, which will be released later this year.
Speaking about the call up for the Welsh Proms, David told A4B: "For the past 16 years the Welsh Proms and Owain Arwel Hughes have been a phenomenal advocate for the euphonium and myself, and so I'm delighted to be able to assist on this occasion by featuring in this special WW1 centenary performance of The Armed Man. It will be a pleasure to once again share the stage with Owain, together with Shan and the WNO".