News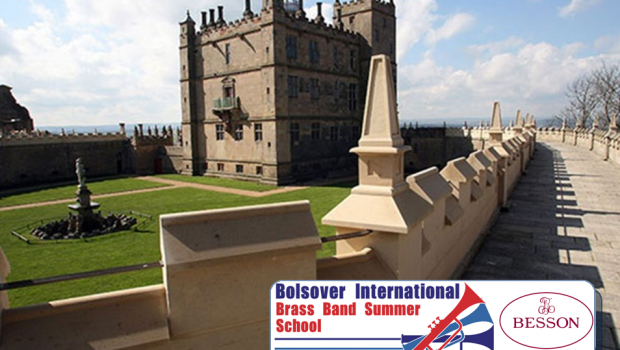 Published on July 27th, 2018
Music Commission Sees Bolsover Summer School Bursary Fund Launched
Following its premiere performance at the Bolsover International Summer School on Friday 26th July, the specially commissioned March, Bolsover Castle, will be made available for bands to purchase, with funds raised from sales going towards a new bursary fund being set up by the Summer School.
The new March was commissioned by Summer School organiser, Carole Hirst in memory of David Morris, who was a valued member of the Bolsover International Brass Band Summer School and Festival of Brass team. David sadly passed away suddenly last October 2017. Dave will be greatly missed and Carole thought it would be a fitting tribute to Dave, in recognition of his contribution to the growing success of the Bolsover Course.
The light-hearted, traditional style March is playable by most levels of bands and has quickly become a favourite amongst the tutors involved with the course. The composer of the work, Gavin Somerset said: 'It was an honour to be asked to compose a March in memory of David, who I've known since I was young and played with him at Chapeltown Silver Prize Band. I wanted to create a March that was traditional in its roots, enjoyable and melodic, whilst paying tribute to one of David's favourite pieces, Mr. Blue Sky, which you can hear influences a section of the March. I'm thrilled that this work will aid the launch of a new bursary fund being set up by the Summer School in his memory.'
Speaking about working on the March, Steven Mead commented: "The 'Bolsover Castle' March by Gavin Somerset is a really outstanding composition, based on the traditional March format, but with a freshness and excellent thematic material. It is a brisk March in 6/8 that is a delight to play and to listen to. I really hope that many bands will get the opportunity to perform this. What a wonderful tribute to the late David Morris this March is. At the Bolsover International Summer School this week, we feel very proud to be premiering this new work.
Explaining a little about the bursary fund being created, Carole said; "The delegates on the summer school have been thrilled with the commission which will be used for future BIBBSS courses as our signature tune. The delegates came up with the idea that it would be a great idea to ask Gavin if he would make a donation from each set of music sold which would go into a 'Dave Morris Bursary Fund' to aid young people that need financial support to attend the summer school.  Gavin's generous gesture will be a great legacy to Dave who was a founder member and key member of the BIBBSS and Bolsover Festival of Brass team."
The March will be available to purchase from www.penninemusic.com from Friday 27th July.