News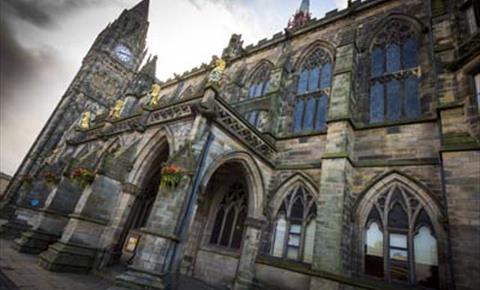 Published on October 10th, 2018
Rochdale Contest Line Ups Revealed
The fantastic surroundings of Rochdale Town Hall is once again the setting for the North West Area Brass Bands Association's Rochdale Contest with the Great Hall providing over thirty bands with the acoustic challenge enjoyed by so many over the years.
This year has seen a drop in the number of bands from the 1st and Championship Section which has resulted in the combining of these sections for the first time in four years. Whilst the organisers are disappointed with this, the growing number of bands in the lower sections still means there is much to offer for those wishing to hear an array of band test pieces.
NWABBA Chairman and contest organiser Richard Milton told A4B: "We have had a fantastic response from bands in the 2nd and 3rd sections which promises to provide some enjoyable performances of a large number of test pieces, only 2 from all of the bands are duplicated."
Two National Champions Oldham (Lees) and Middleton will be attending and many other bands from across the North West will be joined by bands from Yorkshire, Wales and the Midlands region.
Adjudicating on the day will be John Doyle and Ben Richeton. Pennine Music, The Brass Band Music Shop and Creative Brass will be providing opportunities for bands to browse music with their various trade stands.
We indebted to local businesses Hanson Springs, WT Building Services, KP Industries and The Flying Horse for their sponsorship of the event.
Tickets for the whole day are only £7 and available on the door with the fun starting at 9:30am
The line up of competing bands is as follows:-
First & Championship Section:
Hade Edge (Jonathan Beatty)
Oldham Band (Lees) (John Collins)
Silk Brass (Tony Wyatt)
Vernon Building Society Poynton (Stig Maersk)
2nd Section:
Besses o'th'Barn (Trevor Halliwell)
Delph (Phil Goodwin)
Farnworth & Walkden (Luke Pallister)
Flixton (Matthew Ryan)
Greenfield (Tom Haslam)
Horwich RMI (Jason Smith)
Ifton Colliery (Scott Lloyd)
Middleton (Kevin Gibbs)
Pemberton Old DW B (Ian Brownbill)
Royal Buckley Town (Keith Jones)
Slaithwaite (Ryan Watkins)
Whitworth Vale & Healey (Christopher Binns)
3rd Section:
City of Chester (Ewan Easton)
Cleethorpes (Brian Harper)
Dobcross Silver (Grenville Moore)
Eccleston Brass (John Wood)
Hoover Bolton (Craig Mann)
Littleborough (Adrian Woodhead)
Pilling Jubilee Silver (Steve Hartley)
Skelmersdale Prize (Ben Coulson)
Thornton Cleveleys (Stephen Craig)
Uppermill (Dean Redfern)
4th Section:
Blackley (Adrian Smith)
Cadishead Public (David Holland)
Parr St Helens (J. Ludden)
Seindorf Beaumaris (Scott Lloyd)
Tewit Silver  (Martin Hall)