Live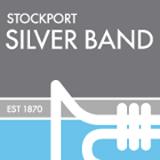 Published on December 2nd, 2018
Stockport Silver Part Company With MD Alex Parker
It has been announced that with immediate effect, Stockport Silver are parting ways with their MD Alex Parker.
The band returned to the contesting scene in February 2016 but has seen a drastic reduction in player numbers in recent months. Due to this the committee have decided to make the shift to revert the band to a non-contesting band for at least the next 12 months while player numbers recover. During this period the band hope to take a different creative direction and for this reason have decided to part ways with their current MD.
Alex Parker told A4B: "It is with mixed emotions I am moving on from Stockport Silver. I have had some fantastic experiences with the band and I hope they have likewise. I leave the band as friends and I wish them luck in the direction they have chosen to go. They know how to get hold of me when they need a hand. There's definitely a place for bands to focus on non-competitive performance and I hope they make a success of it. This also leaves me more time to focus on my own development as a conductor as I strive to take myself to a higher level too."
There will be further announcements in the near future with regards to a new MD for the band.