News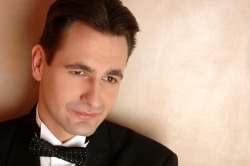 Published on January 8th, 2019
Craig Roberts Steps Down at Seindorf Arian Crwbin
Following a successful two years, the partnership between Seindorf Arian Crwbin and Professional Conductor Craig Roberts has drawn to a close.
The two year musical relationship has seen the band enjoy unprecedented competition success, including the National Eisteddfod of Wales Second Section title in 2017, numerous prizes in the SEWBBA & WWBBA championships, and Crwbin being named Runner Up Second Section Welsh League Champions in both 2017 and 2018.
Speaking to All4Brass, Craig told A4B: "I'm delighted in the progress that has been seen in both individual players and the band as a whole at Crwbin over the past two years. I firmly hope that progress will continue under new direction and thank each of the players for all their hard work and success during my tenure".
Crwbin President Julian Jones stated: "On behalf of everyone at Crwbin Band I would like to thank Craig for the energy, commitment and direction from which the band has benefitted greatly, and extend every good wish for the future".
An announcement regarding the future musical direction of the band will be made in due course.